2023

Policy Map

We're engaged in statehouses across the country on behalf of chronic disease patients. Visit our map to learn more about the latest policy conversations in your state and how you can take action.
2023

Policy Platform

Learn more about our 2023 policy platform in the official one-pager:

Expanding Access to Telehealth
Access to telemedicine is a valuable tool for supporting patients with chronic disease, who may be immunocompromised or have difficulty leaving their homes.
Sign our petition to expand telehealth access.
The pandemic underscored the value for chronic disease patients of accessing health care services online. However, in some cases insurance companies are fighting to limit access to telehealth, saying it increases costs as more patients have access to care.

Others challenge the fairness of telehealth, pointing out that people without access to broadband Internet, including those in rural settings or without access to wi-fi, are not able to participate in services. New laws are being enacted across the nation to protect access to this care and promote broadband services.

The Chronic Disease Coalition is a strong supporter of these new laws and regularly testifies in favor of them. We also work with patients to tell their stories about how telehealth has been a lifeline. Read our telehealth blog here.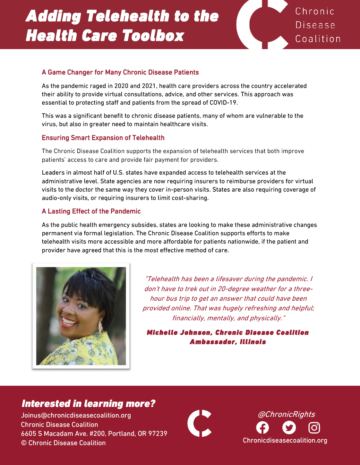 Addressing Step Therapy and Prior Authorization
Insurance companies often force patients to use cheaper treatments that have not been prescribed by a doctor in order to cut costs, with dangerous implications.
Sign our petition to address harmful step therapy and prior authorization requirements.

The Chronic Disease Coalition opposes policies that allow insurance companies to make treatment decisions for a patient, rather than a doctor. Patients across the country have important stories to tell about how these practices have delayed improvement in their conditions, or destabilized them once a treatment was working.

We support legislation at the Congressional and state level that would ban these practices, and support patients to tell decision-makers their powerful stories about the negative effects of step therapy, non-medical switching and fail first policies. Read our recent step therapy blog here.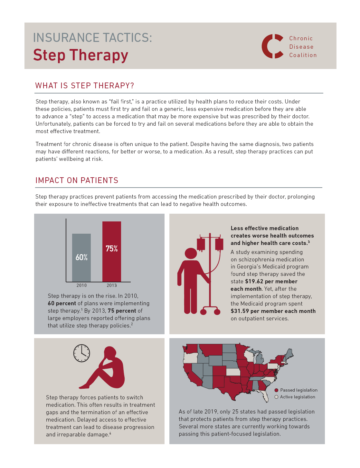 Copay Accumulator Programs
Insurance companies will take all the revenue from copay assistance, but then require patients to personally pay their deductibles and out-of-pocket maximums, eliminating the role of copay assistance.
Sign our petition to protect third-party premium assistance.

In recent years, insurance companies have instituted a new tactic for maximizing profits called copay accumulator programs or accumulator adjustment programs. These programs are often adopted with limited warning to patients but can have devasting effects to health and finances.

Here's how they work: A patient is prescribed a drug treatment by their doctor and receives a copay card to help cover the cost — often the card will help cover a patient's deductible and out-of-pocket maximums. At the pharmacy, the patient uses the copay card to purchase the treatment. But if a copay accumulator has been added to the patient's policy by the insurance company, the copay card won't actually help the patient at all. The insurance company will simply collect all the revenue from the card, and then hold the patient personally responsible for the cost of their deductible and out-of-pocket maximums.
This often comes as a surprise to patients, who are told they must now pay for the treatment themselves or stop accessing it. This forces patients to decide between paying for their treatment and paying for food, internet, transportation and more. Patients who cannot afford the drug stop taking it, destabilizing their condition. This often leads to worsening health and additional medical costs. Patients who choose to personally pay for their medication because it is critical to their health are then faced with thousands of dollars in unexpected bills.

The Chronic Disease Coalition strongly opposes copay accumulator programs. We encourage patients with stories to tell about the impacts of them programs to reach out to us, so that together we can end this harmful practice. Learn more about copay accumulators on our blog.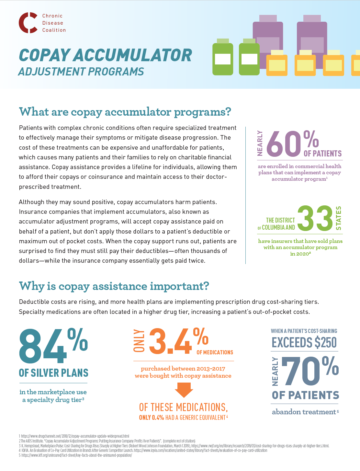 Living Organ Donor Protections
Every year, 6,000 Americans become living donors of kidneys, livers, and other organs to save the lives of family members, friends, colleagues, and even complete strangers. Yet another name is added to the transplant waitlist every 10 minutes. Discriminatory insurance policy is dissuading people from participating in this crucial assistance. 
Living organ donation provides chronic disease patients a second chance at life and is more effective and cost-efficient than dialysis and posthumous donation. Unfortunately, organ donors often face a variety of discriminatory practices from unexpected out-of-pocket expenses to ongoing insurance coverage issues.
Giving the gift of life shouldn't come with fear of discrimination.
There are more than 100,000 people currently on the transplant waiting list in the U.S., while many potential donors are discouraged from giving because of:
Sudden increases in health insurance rates
Workplace retaliation such as job loss
Soaring out-of-pocket costs
We can open the doors to more life-saving living donations with common-sense, bipartisan policy solutions such as: insurance protections, paid or job-protected leave for private and public employers, tax credits for employers who provide paid leave, direct donor reimbursements, employee tax credits or tax deductions, and extended family medical leave.
Dozens of states take steps every year to alleviate challenges facing potential donors, their recipients, and their families.
As kidney disease and other chronic disease rates continue to rise across the country, the Chronic Disease Coalition supports living organ donor protections, incentives and reimbursements.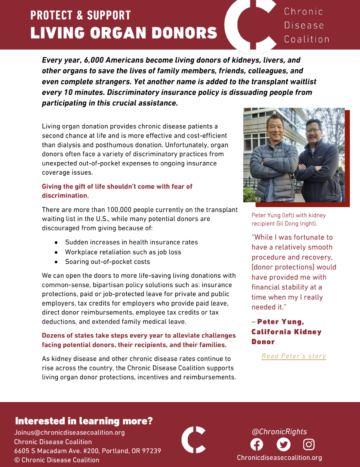 Premium Assistance Bans
Insurance companies target patients with chronic diseases by rejecting their premium payments if they rely on financial aid from nonprofit organizations.
Sign our petition to protect third-party premium assistance.

Chronic disease patients face high costs for treatment but are disproportionately from financially disadvantaged populations and often unable to work because of their medical condition. To ensure patients have access to care, charitable organizations will provide support for patients to pay their insurance premiums.

This help is crucial but is often under attack by insurance companies and regulations that restrict access to premium assistance. The Chronic Disease Coalition opposes premium assistance bans and is active in Congressional and state legislation to ensure patients are permitted to access to this charitable assistance.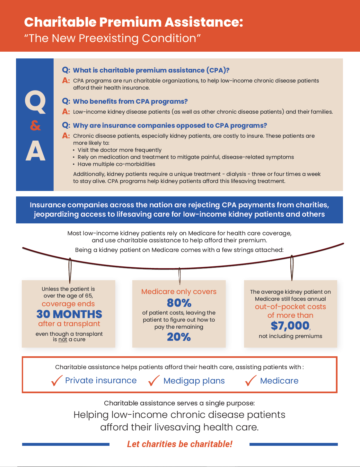 Chronic Disease Task Forces
The Chronic Disease Coalition's top priority is to ensure patients' voices are heard whenever patient issues are being discussed. Because legislators and state agencies aren't experts on every single issue, they often rely on task forces of experts or affected citizens.
Sign our petition to establish effective chronic kidney and rare disease task forces.

These task forces submit Legislative reports and policy recommendations for changes to law, but also advise agencies on governmental regulation and operations.
An effective group will include diverse representation and ensure that influential decisionmakers, like elected officials, have the authority to act on the issue. To have its recommendations truly implemented, the task force should also exist within an effective administrative structure, and within the appropriate state agency.
We support task forces that elevate the voices of patients with chronic kidney disease and rare diseases, and strongly support work that ensure existing task forces include the patient perspective.

Expanding Medigap Coverage
Medigap plans (or Medicare supplemental insurance policies) cover some of the medication and treatment costs that traditional Medicare does not pay.
Sign our petition to expand access to Medigap now.

The policies are offered through private insurance companies. Any American over the age of 65 can get Medicare and buy a Medigap plan.
The story is different for Medicare patients under 65, many of whom are living with a chronic illness. Although they qualify for Medicare, depending on their state, they may be barred from buying a Medigap plan. They also may be forced to pay a higher rate than other Medicare patients.
Chronic disease patients and their families need this lifesaving coverage. Healthcare costs can break families, and Medigap coverage is an essential tool in managing those costs.
The Chronic Disease Coalition is working to expand Medigap coverage in individual states, ensuring all chronic disease patients have access to this critical coverage. We also support a federal fix that covers all Americans and eliminates the uneven access across states.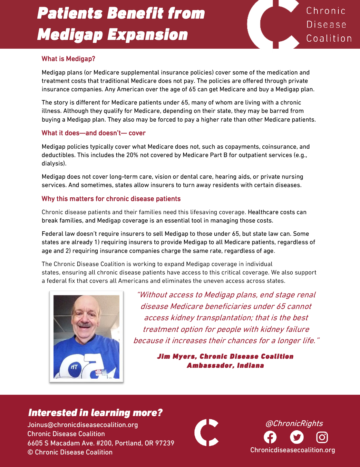 Protecting Access to Care
The Chronic Disease Coalition works tirelessly to protect and expand access to care for chronic disease patients, whether that be expanding Medicaid, Medicare, or access to innovative treatment.
We participate in coalitions at the state and federal level to prevent constant threats from impacting availability and affordability of health care, we educate lawmakers and decision-makers, and we empower patients to lift strong voices in support of quality health care for everyone.
Going forward, we will empower patients to advocate for affordable access to needed medical treatments, including established and innovative prescription drugs. Lawmakers and regulators should be informed by direct patient experiences.
Supporting the Healthcare Workforce
Patients need to have access to a diverse, qualified network of providers. But certain barriers present issues for the spectrum of chronic care providers – record burnout, staffing mandates, administrative burdens, lack of professional development opportunities, and others.
Expanding Access to Mental Health Care
The brain is part of the body – but too often, we treat mental health as a secondary consideration.
Reforming Pharmacy Benefit Management
For the hundreds of millions of Americans who live with chronic conditions, affording their medication on an ongoing basis, despite having insurance, is a major barrier to living a healthy and full life.
Pharmacy benefit managers (PBMs) were initially established to process prescription drug claims, however, due to massive growth in their scale and market consolidation, PBMs now touch every part of the drug supply chain.
However well-intentioned, the system is not doing what it was intended to do: make prescription medicines affordable to the people who need them. We need better oversight of PBMs to understand more about how costs are negotiated, and to ensure that rebates are passed on to patients.
Download our one-pager on PBM Reform.
Focusing on Social Determinants of Health
We will support efforts to illuminate how issues such as basic nutrition and housing can improve individual and community health outcomes and improve health equity.
Without access to healthy meals, or a safe neighborhood to exercise in, or clean air to breathe, chronic disease patients often see their conditions worsen. We must be proactive and comprehensive when looking at policy solutions that have the broadest possible benefit.