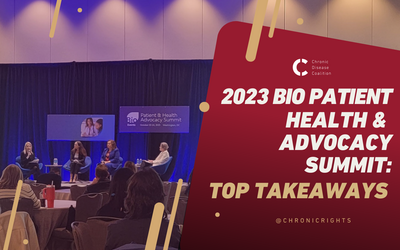 Imagine the power of coming together with like-minded advocates and healthcare experts, all passionate about creating a healthcare system that truly serves patients. The Chronic Disease Coalition was in Washington, D.C., last week for the annual 2023 BIO Patient Health & Advocacy Summit, where we were blown away by the progress made by the patient advocacy community this year, the passion in the room, and the real potential for meaningful change.
One of the most thought-provoking discussions revolved around the Inflation Reduction Act, which is a behemoth piece of legislation with both good components and concerning policies. Enacted about a year ago, this law is a game-changer in the healthcare space, but unfortunately we're seeing some troubling trends in regards to its impacts on research and development of new treatments — especially for chronic patients living with rare diseases. The primary problem is that the government is now allowed to negotiate prices for certain treatments, which sounds helpful in theory, but doesn't consider the massive investments that are needed to develop the next generation of treatments and cures.
Fortunately, there's a federal proposal to soften the impact on chronic patients' access to treatments. The bipartisan ORPHAN Cures Act would exempt certain orphan drugs – drugs made for extremely rare diseases – from the price controls, but only if the drugs are approved for a single indication. This is a positive step, and the CDC looks forward to supporting this effort.
We also don't need to wait to make our voices heard on the impacts of the Medicare Drug Price Negotiation Program. The Center for Medicare and Medicaid Services (CMS) is hosting listening sessions this fall for each of the drugs on the negotiation list, and patients have an opportunity (albeit a limited one; to three minutes each) to share more about how those treatments have improved their lives and why it's critical that they maintain access to them.
It was encouraging to hear an emphasis during the conference on two major policy priorities for the CDC: A federal ruling on copay accumulator programs (CAP) that effectively prohibits a common kind of CAP, and movement on the federal Safe Step Act, which was included in a broader pharmacy benefit management bill this year in the Senate. The CDC has written about both issues recently and extends our gratitude to not only all our advocates that have worked on them, but to our partner organizations who have led the charge in the courts in Congress. There is more work ahead; but momentum is on our side.
The 2023 BIO Patient Health & Advocacy Summit isn't just a fun thing to do each year; it's part of our community's ongoing commitment to championing the needs of patients with chronic diseases. The discussions and panels at the summit have fortified our resolve to advocate for improved access to treatments, reduced barriers, and healthcare that revolves around patients.
As we look toward the end of the year and into 2024, the CDC is more inspired than ever by our partners, our members, our industry allies, and our patient advocates.