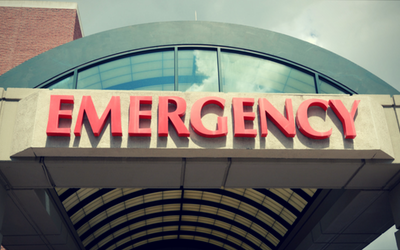 The major health insurer Anthem is refusing to pay for nonemergency medical conditions treated in the emergency room in Georgia, Missouri and Kentucky while considering rolling out this risky policy in other states as well, according to a new article in Healthcare Finance. This development is particularly troubling because of the testimony of doctors and other medical professionals, who say patients often don't know whether a condition is an emergency until after they have been seen by a physician. Here are five takeaways on this issue.
According to the American College of Emergency Physicians (ACEP), doctors can't always tell if a medical condition is a real emergency until after they have seen the patient.
For example, a patient with chest pain might go to the hospital not knowing if it was because of heartburn, heart attack or stroke, Dr. Victor Friedman told Healthcare Finance.
And yet Anthem has decided that "unspecified chest pain" does not count as an emergency that a patient can go to the ER for.
This news is worrisome. A study conducted by the American Medical Association found a 90 percent overlap in symptoms between emergencies and non-emergencies – indicating the necessity of going to a doctor if you are concerned.
Uncertainty over whether their medical condition is indeed a covered emergency could lead more patients to avoid seeking emergency care they actually need, putting their lives at risk.
A recent poll from Morning Consult found that more than four of every 10 people interviewed, or 43 percent, had delayed or avoided emergency care in the past two years out of concern about the cost of co-pays, co-insurance or deductibles, and nearly half said their medical conditions worsened as a result.
Dr. Becky Parker, an emergency room physician, told NBC news about a patient who waited to seek treatment until normal office hours because her co-pay to see a primary physician was $50 while an emergency room visit cost $250. Parker's patient had experienced a stroke and prolonged seeking medical attention because of insurance costs.
Anthem's policy is just another attempt at getting around federal rules that are supposed to protect patients from discrimination.
Anthem will determine coverage based on final diagnosis rather than the patient's symptoms, disregarding rules from the 2010 Affordable Care Act, according to the American College of Emergency Physicians.
"For years, they have denied claims based on final diagnoses instead of symptoms. Emergency physicians successfully fought back against these policies, which are now part of federal law," Dr. Parker told NBC News. "Now, as health care reforms are being debated again, insurance companies are trying to reintroduce this practice."
Should Anthem deny a claim, patients will be left responsible for the bill.
The National Institute of Health conducted a study of 8,303 emergency department encounters that examined patients ages 18 to 64 who were discharged after a single diagnosis to determine the cost associated with that visit. The study analyzed the 10 most common outpatient visits and found that the median charge for these conditions was $1,233, with overall costs ranging anywhere from $740 to $3,877.
Despite faithfully paying your premiums, Anthem may leave you to cover the costs from a necessary emergency room visit.
The idea that patients are excessively and inappropriately visiting emergency rooms is a myth.
A recent study published in the International Journal for Quality in Health Care determined that only 3.3 percent of all emergency room visits were "avoidable." The only way for a patient and doctor to determine if the visit was "avoidable" is upon completion of diagnosis.

"We feel very strongly that patients make pretty good choices whether to go to the emergency room department," said Dr. Vidor Freidman, secretary and treasurer of the American College of Emergency Physicians.

To read more about Anthem in the article from Healthcare Finance, click here. Health insurers' primary concern should be to ensure their members receive the medical care they need, not to steer them away from necessary treatment in the interest of saving money. The Chronic Disease Coalition believes you shouldn't have to worry about your coverage in an emergency situation. Join us in our fight to end discriminatory insurance practices and ensure that patients across the country are able to receive proper care – in or out of an emergency room.