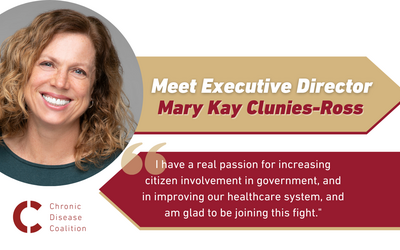 Dear friends of the Chronic Disease Coalition,
I am extremely grateful to the Coalition board for inviting me to serve as executive director.
Over the last few months, I have had the honor of getting to know the CDC ambassadors, staff, board members and partner organizations. Through every conversation, I've been struck by the common desire to ensure that people with chronic diseases are educated and empowered to advocate for themselves. There are public policy issues that uniquely impact the chronic disease community, and that impact should be better understood by lawmakers at the state and federal level. COVID is, unfortunately, likely to increase our ranks, and the Chronic Disease Coalition will be there to advocate for them as well.
I have a real passion for increasing citizen involvement in government, and in improving our healthcare system, and am glad to be joining this fight. I'd love to hear from you-- If you've got thoughts about what you value about the CDC or what direction you'd like to see us go in, please reach out.
We have a lot to learn and a lot to do, and it's time to get busy.
Onward,
Mary Kay