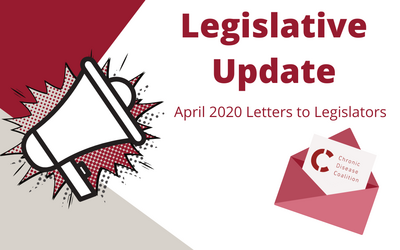 The Chronic Disease Coalition's mission to ensure all patients have access to high-quality, equitable health care is more important now than ever before. To ensure all chronic disease patients' interests are considered by policymakers, the CDC often joins patient organizations across the nation in sending letters to Congress and local state legislators. These letters call for equity, affordability and increased access to crucial services, serving to elevate and represent the interests and voices of chronic disease patients across the nation. In this week's blog we look at several letters the CDC signed in April and how COVID-19 policy is impacting chronic disease patients. Expansion of the Paid Family Medical Leave Act during COVID-19 On April 9, 2020, the CDC joined more than 100 patient organizations, including the Lupus Foundation of America, Muscular Dystrophy Association and the American Diabetes Association, in signing a letter urging congress to make the following changes to the paid family and medical leave program:
Expand eligibility for paid family leave to include anyone who, because of a serious health condition that places them at grave risk from COVID-19, has been advised by their physician to remain home
Expand eligibility for paid family leave or additional financial support to include anyone who has been advised by a physician to remain home because there is a member of their household who has a serious health condition that places them at grave risk from COVID-19
Remove the arbitrary time limit on paid leave to ensure that these individuals can remain home as long as the COVID-19 pandemic poses a risk to their health and wellbeing
Ensure this program applies to employers of all sizes
Federal agencies should enact non-discriminatory health care policy considering COVID-19 On April 16, 2020, the CDC joined the National Multiple Sclerosis Society, the Arthritis Foundation and many more in sending a letter to Secretary of the U.S. Department of Health and Human Services and Director of the Office for Civil Rights. This letter outlined key non-discriminatory policies and guidance that the federal government should provide to states in order to ensure chronic disease patients have access to the care they need. This guidance includes:
Remind states that federal law prohibits treatment allocation decisions based on assumptions about a person's disability or age that will diminish their prospect of survival
Clarify that allocation decisions based on life years or life expectancy discriminate against disable people and older adults
Clarify that modifications must be made where needed to have equal opportunity benefit from treatment

Modifications include interpreter services, increase baseline times for treatment response or additional service needs

Recommend the Office of Human Rights advise states to maintain data surrounding health care rationing during COVID-19 including tracking of Intensive Care Unit rates and number of patients denied care
Include step therapy protections in next COVID-19 stimulus package The recent COVID-19 epidemic has put chronic disease patients at higher risk for insurance and health care policy discrimination. Step therapy protocols delay lifesaving treatment options by requiring patients try and fail cheaper medications before covering the doctor's recommendations. The CDC joined the Psoriasis Foundation and more than 50 other organizations in signing a letter urging policymakers to include key step therapy guardrails and protections for Medicare Advantage (MA), Medicare Prescription Drug (PDP), Medicaid Managed Care (MCO) and Employee Retirement Income Security Act (ERISA) plans in the next stimulus bill. These protections include:
Institute step therapy guardrails and protections for all MA, PDP and Medicaid MCO plans during the public health emergency (PHE)
Institute similar step therapy guardrails and protections for ERISA plans governed by the Department of Labor during the extent of the public health emergency
Enact these same protections outside of the public health emergency for at least one year after end date of the PHE
Step therapy protections, non-discriminatory policy decisions and stimulus package expansions are just three of the ways the CDC is influencing chronic disease legislation during COVID-19 and on a regular basis. Join us and make your voice heard by sending your own letter to legislators today.