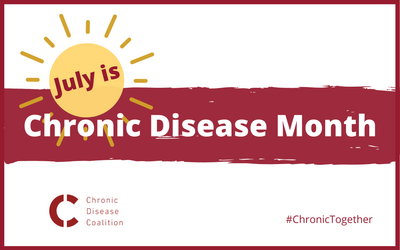 In the United States 7 out of the top 10 causes of death are attributed to chronic disease. This sobering reality has led the Chronic Disease Coalition and patients to speak up, speak out and create an important dialogue in communities across the nation.

Chronic Disease Day is recognized every year on July 10, providing an opportunity to raise awareness about the prevalence of chronic disease, its impact and the experiences of millions of Americans. Nearly 60 percent of adults battle a chronic disease – it may be you, your family member, neighbor or the person you pass on the street. Many people battle an "invisible illness" and are often silenced by stigma or years of being dismissed by others.

"Battling a chronic disease is just that, a battle," said CDC Executive Director Scott Bruun. "July 10, represents a day where the community can come together to share their stories, promote preventative practices, acknowledge and address disparities in our health care system and work to encourage healthier lifestyles."

For several years the CDC has partnered with Good Days to raise awareness, promote increased access to care and empower advocates to share their chronic disease story. This year, the CDC is expanding these actions beyond a single day to include a focus on chronic disease education and advocacy throughout the month of July.

Follow the CDC on Twitter, Facebook and Instagram to join the conversation, connect with others and make some noise!