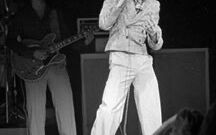 Legendary singer David Bowie has died at 69, his son, Duncan Jones, tweeted.
"Very sorry and sad to say it's true," Jones, 44, wrote on Twitter late Sunday night. "I'll be offline for a while. Love to all."
A statement on the musician's official website read: "David Bowie died peacefully today surrounded by his family after a courageous 18-month battle with cancer. While many of you will share in this loss, we ask that you respect the family's privacy during their time of grief."
His representative, Steve Martin, said that Bowie died "peacefully" and was surrounded by family, according to the Associated Press. No more details were provided.
The Associated Press, the Daily Mail and other British media reported that Bowie died following a secret battle with cancer, although the type was not specified.
His last music video, Lazarus, was released Thursday and seemed to provide a haunting image of what was to come; Bowie in a hospital bed, his eyes bandaged, the lyrics beginning with the line, "Look up here, I'm in heaven."
An off-Broadway musical, also called Lazarus and based on Bowie's music, premiered last month in New York.
Bowie turned 69 on Friday, the same day he released a new album called Blackstar, which earned rave reviews.
It was the 25th album from the glam-rock icon, who was born David Jones in South London on Jan. 8, 1947. He took up saxophone when he was 12 years old and played with a slew of bands after high school, eventually changing his name to "Bowie" in order to avoid confusion with The Monkees' lead singer Davy Jones.
He released his self-titled debut album in 1967, but didn't break out until two years later with Space Oddity, which is best remembered for introducting fictional astronaut character Major Tom. It was one of nearly two dozen songs that Bowie charted on Billboard's Hot 100 in his five-decade career (including No. 1 hits Let's Dance and John Lennon co-write Fame).
On tour and through his music, Bowie slipped in and out of various personas and alter egos: most famously, the androgynous Ziggy Stardust, eccentric Aladdin Sane and drug-fueled The Thin White Duke, created during his mid-'70s Young Americans era.
It was around this time that Bowie struck up an interest in acting, starring in movies such as 1976 sci-fi drama The Man Who Fell to Earth and Jim Henson's 1986 cult classic Labyrinth, in which he played the devilish Jareth, the Goblin King, and wrote songs featured in the film.
But his onscreen roles dwindled in the years that followed, which he acknowledged apathetically in a 1990 interview with USA TODAY. "You have to some some commitment, and I'm not good at wining and dining the right people or studying acting or showing much interest," Bowie said. "It's unutterably boring."
After hitting critical and commercial highs in the 1980s with albums such as Tonight and Scary Monsters (and Super Creeps), Bowie continued to reinvent himself artistically to varying degrees of success. He also saw ups and downs in his personal life. After a highly publicized 1980 divorce from model Angela Barnett (with whom he had his son, Duncan), Bowie married model/actress Iman in 1992. Together, they had a daughter, Alexandria, born in 2000.
Bowie famously grappled with substance abuse at the peak of his popularity, but swore off drugs and stardom in the '80s, he told USA TODAY in 1990. "I don't see anything glorious about fame," Bowie said. "Anyone who strives for it must be out of their gourd."
The singer kept a mostly low profile since he reportedly suffered a heart attack in the 2000s. He released three albums (including Blackstar) after 2002's Heathen and received a Lifetime Achievement Award at the Grammy Awards in 2006. It was one of the few major honors bestowed on Bowie in his lifetime, including a Rock and Roll Hall of Fame induction in 1996.
Ironically, a tribute to Bowie at New York's Carnegie Hall had been announced just hours before his death, set for March 31 and featuring artists such as The Roots, Cyndi Lauper, Perry Farrell and Heart's Ann Wilson. The show will proceed, but as a memorial concert, according to the site.
Famous friends and fans took to social media early Monday to express their condolences. Among them, Bowie collaborator Iggy Pop, who tweeted a particularly heartbreaking message: "David's friendship was the light of my life. I never met such a brilliant person. He was the best there is."