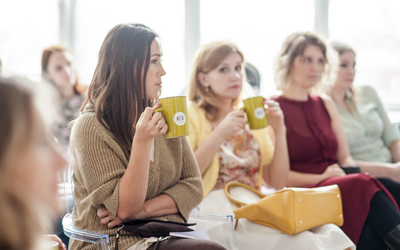 An invisible illness is one of the leading causes of infertility among women. Estimates indicate that endometriosis affects nearly 176 million women worldwide, yet few have heard of the disease. To begin the conversation, we've put together a list of three things you should know about this condition. 1. Endometriosis is a widespread painful condition, impacting nearly one in 10 women, and it often goes undiagnosed, causing many women to suffer in silence.

Endometriosis occurs when tissue that is meant to line the uterus – endometrium – is found instead growing in the ovaries, fallopian tubes or pelvis. Despite the excruciating pain that accompanies this condition, many doctors dismiss these women as having normal "female troubles."

"All of those clichés have surrounded menstruation since the dawn of time," explained Heather Guidone, who works for the Center for Endometriosis Care, in an article in the Guardian. Guidone says that women often tell her they are experiencing life-altering pain with a specific set of up symptoms. Says Guidone: "The doctor will kind of pat her on the head and say take this pill. Then you've got this vicious cycle, and ultimately she stops telling people."

2. Endometriosis has a large social impact and is one of the leading causes of infertility and lost productivity in the workplace.

This condition often results women to losing, an average of 10 hours of work per week due to debilitating pain, according to a study published in the American Society for Reproductive Medicine. Endometriosis poses a substantial economic burden, and costs nearly $119 billion worldwide in lost productivity.

Additionally, endometriosis is suspected to account for nearly half of all unexplained infertility problems worldwide. Even surgical treatment for endometriosis can negatively affect a woman's fertility, particularly ovarian surgeries, which can cause hormones to fluctuate.

3. Accessing treatment for endometriosis is expensive, and insurers won't always cover it.

There are several surgical treatment options for patients battling endometriosis including excisions, ablation or cauterization of the endometriosis lesions. Despite the complexities and differences in the various procedures, the insurance industry reimburses doctors at extremely low rates.

"You could spend 30 minutes in the operation just burning and zapping and get paid the same amount if you did nine hours doing a meticulous surgery," Guidone told the Guardian. "Insurance is not the patient's friend in this regard."

As a result, many endometriosis specialists will not accept private insurance. One doctor found he couldn't sustain his practice simply doing endometriosis surgeries despite the demand for treatment.

This leaves many women turn to their gynecologist, which is covered by their insurance. Most often, gynecologists advise patients to get a hysterectomy, which isn't an effective treatment option.

More needs to be done to raise awareness about this devastating condition. The Chronic Disease Coalition is proud to announce we will be participating in a patient protest calling on the American College of Obstetricians and Gynecologists to address endometriosis care. Join us in Washington, D.C., on April 5 and 6 as we work to make sure endometriosis patients have access to the care they need.