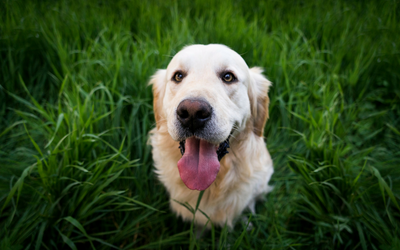 6.1.17 When people think of service animals, many conjure up the image of guide dogs, therapy pets and emotional support animals. But have you ever heard of a diabetic alert dog? For the estimated 29 million Americans that now live with diabetes, diabetic alert dogs can offer an effective method to help monitor and manage blood sugar levels, helping to save many lives in the process. When patients' blood sugar levels drop to dangerous, life-threatening lows, these service dogs let their owners know that they need to quickly eat food or drink some juice. Dogs have an amazing natural sense of smell, and diabetic alert dogs are trained to sense when a person's blood sugar levels are either too high or too low. And they do it quickly – 15 to 30 minutes faster than today's modern blood sugar monitoring devices can detect the symptoms. So, why don't more patients have them? Obtaining a service animal or diabetic alert dog remains a financial challenge. These animals go through time-intensive training, coming with a hefty price tag ranging from $15,000 to 50,000. As of today, no health insurance coverage, federal or private, covers the cost of obtaining a diabetic alert dog. A petition has been started online to encourage the U.S. Department of Health and Human Services and some of the country's biggest health insurance companies, including WellPoint, CIGNA, Aetna, Humana and United Healthcare, to add diabetic alert dogs to medical insurance policies. "I am dismayed that these effective assistants to managing and maintaining awareness of blood glucose levels are effectively uncovered by the insurance industry," states the petition, which can be signed here. Following are four stories that illustrate just how much of a difference diabetic alert dogs are making in children's lives.
A school included this teen's service dog in the yearbook and it's the purest thing
Andrew Schalk's service dog, Alpha, has been a huge part of his life – both at home and in school. Alpha is not only helping save Andrew's life, he has become a popular and welcome sight at Stafford High School in Falmouth, Virginia.
Click here to read more about Andrew and Alpha's story.
A dog and her boy: Stowe student saved by his pet every day
Carter Getty, an 8-year-old at Stowe Elementary School in Stowe, Vermont, was diagnosed with Type 1 diabetes once he was 5-years-old. Now Carter's new friend – service dog Nova – goes wherever Carter does.
You can read the whole story by clicking here.
Four-legged friend helps diabetic student at school
Elizabeth Travis, a freshman at Estacada High School in Estacada, Oregon, was diagnosed with juvenile diabetes two years ago. Every day, Elizabeth's diabetic alert dog, Lucy, goes to school with Elizabeth – Lucy even has her own student ID.
Read the rest of the story here.
Meet Buddy: A Hawaii boy's new best friend that could also save his life
Mason Madera, a 15-year-old freshman at Hawaii Baptist Academy in Honolulu, Hawaii, has a diabetic alert dog, Buddy, who helps monitor his blood sugar levels. As soon as Buddy senses problems with Mason's blood sugar levels, Buddy promptly reminds Mason that it's time to take action.