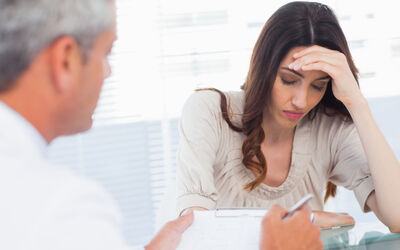 7.20.17 Insurance companies looking to increase their profit margins are finding new ways to wrongfully block patients with chronic health issues from accessing the medical care they need. Here are four recent examples of health insurers discriminating against people by creating barriers to care based on their specific disease. 1. In Texas, a mother recently described how insurance companies' practices kept her son in pain for 10 months. The boy was 13 years old when he was diagnosed with psoriatic arthritis, an inflammatory arthritis that causes joint pain and swelling and can lead to long-term joint damage if the inflammation is not controlled.
"We soon discovered that developing a treatment plan was not going to be as straightforward as we had hoped," Jodi Wood wrote in
TribTalk, part of The Texas Tribune. "Our desire to find an effective therapy for Michael's disease proved to be a long, frustrating process, not because of his physician but because of an insurance company practice called step therapy." Step therapy, also known as "fail first," is currently being required by several insurance providers in Texas.
"This insurance practice requires patients to go through older, oftentimes less expensive and less beneficial drugs — some of which can have adverse side effects — before receiving access to the physician's first choice for drug treatment," she said. "In other words, patients must fail on several medications before they are permitted to move to costlier but possibly more effective remedies."
2. In California, a man sued Aetna based on breach of contract, saying the company wrongfully denied him coverage, resulting in pneumonia and a collapsed lung. This is increasingly common for patients with chronic diseases like his, according to a California Healthline and Kaiser Health News article. And the results are tragic.
"In recent years, patients with these diseases have faced increasing difficulty getting their insurers to approve treatments, according to clinicians and patient advocates," the article stated. "In some cases, insurers interrupt treatments that are already underway. In others, they deny it at the outset. Without medication, patients can get infections or even suffer organ failure."
3. In Florida, a man recently filed a class action lawsuit after Blue Cross and Blue Shield Association denied his wife's cancer medication. Coral Springs attorney Mitchel Chusid filed the lawsuit to force Blue Cross and Blue Shield Association to cover his wife's $15,600-per-month treatment for ovarian cancer, according to an article in the Daily Business Review.
"For Blue Cross to say they're not paying for it because it's not in their formulary, they're playing god," Mitchel Chusid told a reporter. "They have control over medication that could save people's lives, and they're saying, 'We're not paying for it.'"
4. Jeanie Murphy of Tennessee has kidney failure and diabetes and is blind. Unable to work, she relies on charitable premium assistance to pay her bills. But BlueCross BlueShield of Tennessee created a new policy to reject lower-income kidney patients who need regular dialysis treatments to survive. So far the state insurance commissioner has not stepped up to protect them from this discrimination, despite the great risk posed for patients.
"For patients dealing with kidney failure, dialysis is often a matter of life or death,"
WRCB-TV reported. You can learn more about how health insurers are targeting patients with chronic diseases by clicking here. Or, join us today.