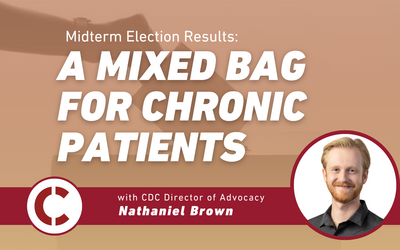 As the results trickled in on Tuesday night, the traditional wisdom around midterm elections mostly rang true: the president's party was on defense and their opponents picked up seats across the board.
Last night was true to tradition and Republicans had a good night; however, the "red wave" that many predicted did not materialize. As of Wednesday afternoon, it's still a strong likelihood that the GOP will retake at least one if not both chambers of Congress, but it will be by a very slim margin. But with a Democratic president, the likelihood of action on any federal legislation is narrow – but not nil.
What was surprising this cycle, though, is that the candidates weren't laser focused on healthcare, as they have been in years past. Healthcare issues were discussed and will certainly be decided in the next Congress, but candidate debates this cycle focused much more on economic and safety issues, like rising inflation and crime rates (which impact chronic disease patients disproportionately).
Our priority issues like federal Medigap expansion, living donor protections and step therapy reform were always going to be battle. And while chronic care issues have traditionally been bipartisan, a divided federal government is more likely to move slowly, throwing even reasonable solutions into doubt. Regardless, we will continue to work with leaders of both parties and advocate strongly at all levels of government for policy solutions to chronic problems.
There's much to be hopeful about, especially for our work at the state level. This midterm election has reinforced that important healthcare decisions are increasingly falling to state Legislatures, governors, and state regulatory agencies.
As an example, the Supreme Court's recent overturning of Roe v. Wade pushes reproductive-rights lawmaking to the state level. On Tuesday, five states (Montana, Michigan, Kentucky, California, and Vermont) asked voters whether their states should take further action on the abortion issue, with at least three expanding access to it.
In other state-level healthcare news, South Dakotans voted to expand Medicaid, approving a referendum that will give more than 40,000 low-income residents access to health insurance. Oregon voters were considering a change to the state's constitution that would have codified healthcare as a right; the measure was too close to call on Wednesday. California voters soundly rejected Prop 29 – for the third time – because of the harm it would have done to patients' access to dialysis (you can read about our position on that measure here).
It's clear that our work is cut out for us in the next two years. If the results from this latest election energize you, please join us – we will ensure you're up to date on every opportunity to make a difference for chronic patients and their families.