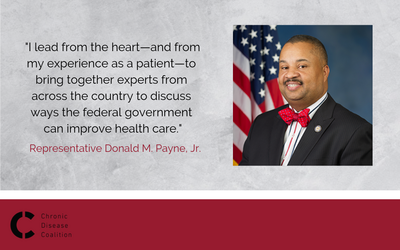 U.S. Representative Donald M. Payne, Jr. was hospitalized recently due to complications from diabetes. A tireless advocate on chronic disease issues, including protecting patients from discrimination, Rep. Payne serves on the Congressional Diabetes Caucus which helps promote the importance of diabetes prevention and management in public health policy. The Congressman's interest in helping others understand diabetes began following his diagnosis as an adult. Representing New Jersey's 10th Congressional District, Rep. Payne launched the Diabetes Outreach Campaign in his home state in 2015. The initiative was widely praised for bringing attention to the disease through targeted outreach in churches, senior living facilities, schools and other community organizations. According to the American Diabetes Association, 9.4 percent of the American population has diabetes with an estimated 7.2 million people who have not received a formal diagnosis. The organization works closely with members of Congress, including Rep. Payne, to advocate effective and fair public policy for a disease that is very treatable. Despite the discipline required to properly manage the condition, patients can live long, healthy lives. Following his recent hospitalization, Rep. Payne told the Chronic Disease Coalition, "As a Member of Congress who is diabetic, it is my mission to help raise awareness about diabetes and other chronic health conditions. By engaging in outreach, working with advocacy organizations and organizing events with constituents, I hope to help people learn from my experience. Through awareness, we can help people identify their health issues and get treatment." Our coalition has encouraged those who feel comfortable sharing their disease story - especially those in public life like Rep. Payne - to do so as a powerful front line in disease prevention and management. We found the Congressman's statement during his hospital treatment to provide exceptional insight into the growing crisis of diabetes across the nation. In Rep. Payne's February 21 statement, he wrote:

"Each year, more than 7.2 million Americans discharged from the hospital are listed as having diabetes. I am one of them. Earlier this year, my diabetes progressed and began to affect my kidneys. Like thousands of my constituents and 32.5 million Americans, I am living with diabetes. At events with my constituents and health care organizations, I have spoken openly about my struggle to maintain a healthy lifestyle. I have advocated in Congress for better and more affordable health care for the American people.

The cost of diabetes in this country is $327 billion each year. I recognize that I am one of the lucky Americans who has good health coverage through their employment. Working for New Jersey's Tenth Congressional District is a privilege and honor I do not take lightly. Almost one in five American adults cannot afford or access necessary health care. I know the importance of good-quality health care coverage, and that's why I have fought for years against rollbacks to the Affordable Care Act—particularly those proposals that would harm people with preexisting conditions. Everyone deserves to have access to health care when they need it.

Diabetes is a chronic disease, but it can be managed under the care of medical professionals to ensure people like me continue to lead productive lifestyles. Because of diabetes' effects on my kidneys, I will be undergoing dialysis treatment with professionals at Newark Beth Israel Medical Center and DaVita. As a patient and an advocate for the health care of my constituents, I'll also be working with Beth Israel and DaVita to ensure that all people have equitable access to renal treatments such as dialysis. I'll also be working with these and other organizations to sponsor health and wellness forums to promote healthy lifestyles, prevention, and access to health care.

The well-being of my constituents and all people in the United States remains my priority. As Co-Chair of the Congressional Men's Health Caucus and an active member of the Congressional Diabetes Caucus, I lead from the heart—and from my experience as a patient—to bring together experts from across the country to discuss ways the federal government can improve health care. Last year, I fought against cuts to community health centers, Medicaid, and Medicare because the health of the American people is paramount. This year, I plan to reintroduce bills that will make it easier for people on Medicare to get screened for colorectal cancer and coordinate men's health efforts nationally. And, as always, I will be a voice for the health of my constituents."

Like others with diabetes who have been hospitalized, Rep. Payne left feeling not only grateful for those who provided his medical care, but gained special insight into what the system needs to best treat those with diabetes and by extension, educate the public about the disease. "Thanks to the care of medical professionals—doctors, nurses and support staff—my health has greatly improved," he told the Coalition. "Chronic diseases like diabetes involve a team of health care experts to help patients like me recover, and, with their guidance, we are able to lead productive lives." The Chronic Disease Coalition is dedicated to supporting patients' access to lifesaving health care. Join us as we fight to make sure patients receive the treatment they deserve.