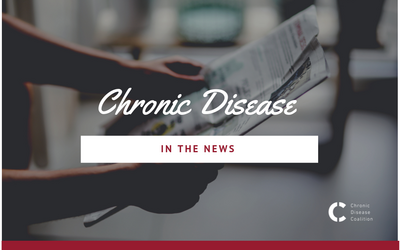 From "fail first" legislation in Massachusetts to a recent study in the Journal of the American Heart Association, the Chronic Disease Coalition is bringing you three recent times chronic disease was mentioned in the news.

Benson backs bill targeting 'fail first' approach to health care

Massachusetts legislation introduced by state Rep. Jennifer Benson and Sen. Julian Cyr is working to establish protections for patients who may be subjected to step therapy requirements by their health insurance companies. House Bill 1853 and Senate Bill 1235 would implement a transparent exceptions process for patients to access their medications, saving patients from delays in receiving effective treatment.

The legislation would also prevent patients from being subjected to the same step therapy protocols if they transition onto a different health plan. For arthritis patient Annie Legassie, this is especially important as a working professional.

"After a while you start to feel like you're being punished for being successful or being upwardly mobile in your career, and when you're presented with what could be your dream job, there's this whole other set of considerations of, is this worth it?" Legassie told the Boston Sentinel & Enterprise. "Is this job worth it if I have to start all over and go through step therapy again with no guarantees?"

Step therapy practices, devised and executed by the insurance industry, require patients to try and fail on a medication before they can advance a "step" closer to accessing the medication originally prescribed by their doctor.

Read more about this legislation in the Boston Sentinel & Enterprise.

Mixing less than 6 hours of sleep with chronic disease is deadly combo

Sleep is a critical contributor to overall wellness, and a recent study published in the Journal of the American Heart Association confirms that it's critical for people battling a chronic disease.

"This is now the fourth study, including ours, clearly indicating that sleeping less than six hours a day can actually lead to the development of artery disease and death related to cardiovascular disease," said Dr. Valentin Fuster, director of Mount Sinai Heart in New York City.

The 20-year study tested 16,000 adults ranging in age from 20 to 74, and it concluded that people with type 2 diabetes or high blood pressure were twice as likely to die from heart disease or stroke when sleeping less than six hours each night. However, there was no correlation between the risk of early death and chronic disease when the person slept longer than six hours each night.

Learn more about the results from this study here.

Does anyone really 'love' private health insurance?

Type 1 diabetic Rachel Madley's battle with the insurance industry began at the age of 14. Upon receiving her diagnosis, Madley and her family would spend years haggling with insurers for coverage of her insulin.

"I am alive today not because of insurance companies but despite them," explains Madley. "My insulin refills have been delayed countless times, not because of medical reasons, but because of what seem to be arbitrary insulin limits and requirements to continuously document my condition, which is permanent."

Read more about Madley's story and the issues she advocates for in The New York Times.