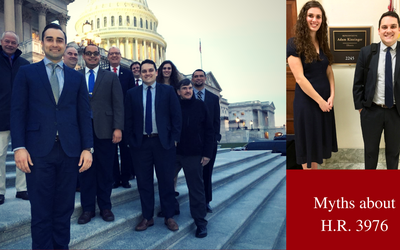 The Chronic Disease Coalition traveled to Washington, D.C., to talk to a handful of elected officials about the importance of a federal bill that would help to protect people's ability to use charitable premium and co-pay assistance to pay for their health care. This bipartisan piece of legislation, H.R. 3976, also known as the Access to Marketplace Insurance Act, is being met with strong opposition from insurance companies that don't want to cover costly patients. You deserve the facts. Here are the top three myths we heard about the bill – along with the facts about what this really means for Americans.
Myth: Patients struggling to maintain a marketplace insurance plan from private sources should instead be forced to obtain public assistance.
Fact: Charitable assistance programs often serve as a bridge or lifeline when someone is struggling with the costs of health insurance amid other expenses, such as rent or food. People have the right to choose the health plan that is best for their individual or family's needs – whether that plan is a public or commercial option.
If the insurance industry continues to ban charities from helping patients with their health care expenses, patients will be left with extremely limited options. First, patients could receive health insurance through Medicaid if they decided to spend down and divest their assets. Another option is applying for disability through Medicare, though that would require employed patients to quit their job. Additionally, patients have to wait at least two years for their disability application to be considered complete, and they are still required to have health insurance coverage during that time.
Myth: If charitable organizations are able to help low-income people with premiums and co-pays, insurance companies will be flooded with too many sick and costly patients.
Fact: Charities help so few of the patients on marketplace insurance plans, it would be impossible to skew the market.
Of 12.1 million people enrolled on marketplace plans in 2017, charities assisted fewer than 10,000 of patients outside of those served through Ryan White HIV/AIDS programs – that's 0.008 percent of people in the marketplace, and definitely not enough to make a tiny dent on the insurance industry.
Meanwhile, the big insurers continue to rake in massive profits despite these supposed hardships. In fact, Aetna, Humana and Cigna have all been experiencing a record year with their adjusted earnings increasing by more than 45 percent since last year in the third quarter as stated in an article in CNBC. Lagging slightly behind, Centene and UnitedHealth Group boast a 25 percent increase in their adjusted earnings from the previous year in the same quarter.
Myth: Third-party charitable assistance programs play a role in drug prices' costs.
Fact: In 2016, the United States spent $328.6 billion on prescription drugs, yet the patient assistance industry represented less than 1 percent of the total drug spending.

While the insurance industry wants us to believe their bottom line will be greatly affected if charities are able to help patients pay their bills, the truth is that these programs help a tiny fraction of U.S. consumers. For those who do need help, this financial assistance is critical to making ends meet and ensuring they receive crucial health care. Take action now and send a message to your legislators to set the record straight and ask them to let charities be charitable.