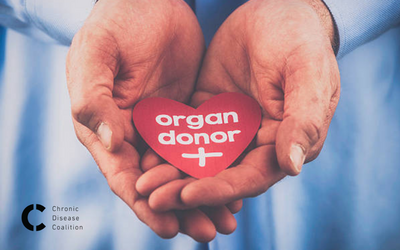 As many as 20 people die each day in the United States while waiting for a donor match so they can receive an organ transplant. A major factor driving this wait is the lack of access to transplants from living donors. Many people may want to help but can't – whether because of potential lost wages, the risk of losing their job or because health insurers might refuse to cover them if they undergo surgery to give someone else the gift of life. This year, Oregon legislators are poised to correct this tragic problem. Introduced by state Sen. Sara Gelser, Oregon Senate Bill 796 would make living organ donation a qualifying reason for family leave, prevent insurance companies from declining or limiting coverage to someone because of their status as an organ donor and prevent insurers from considering whether a person has donated an organ when setting premium rates for their health plans. Similar bills are emerging in other states as well, including California's AB 1223, introduced by Assembly member Dr. Joaquin Arambula. Donate Life Northwest, part of Donate Life America, educates people in Oregon and Southwest Washington about the importance and impact of organ, eye and tissue donation, ultimately helping to increase the number of people signing up for their state's donor registry. Following are five stories of hope from Donate Life NW about the amazing impact living donors have had on Oregonians.

Marisa Salgado

At the young age of 16, Marisa Salgado suffered from chronic kidney failure.

This meant her high school years were built around daily dialysis treatment, frequent hospital visits and a medication regimen. Not only that, but dialysis is exhausting. The process lasted up to nine hours each day to filter toxins from her blood when her kidneys no longer could.

She desperately needed a new kidney. Luckily, her father donated one of his kidneys, giving Marisa the gift of a normal life again.

"This experience made me understand this can happen to any person at any age, day or time," she told Donate Life Northwest. "These things happen to people on a regular basis, which is why we should consider signing up as organ donors. Someday we may have the opportunity to give someone a second chance in life."

Emily Lighthipe and Liz Campbell

Sometimes a stranger can become an organ donor – and a new friend. That was the case with Emily Lighthipe, who was a stranger to Liz Campbell but was a customer at her Southeast Portland store, Kids at Heart Toys.

A wife, mother and employee at OHSU Doernbecher Children's Hospital at the time, Emily heard about Liz's struggle with dialysis and End Stage Renal Disease, and she decided to get tested. The results were positive – she was a match. And in 2018 she donated a kidney to her new friend.

"Being a living kidney donor is a very feasible thing," Emily said to Donate Life Northwest. "You don't have to be a superhero to qualify."

Grant

According to Donate Life Northwest, J. Grant is full of surprises: Shortly after donating a kidney at age 69, he embarked on a nearly 2,000-mile bicycle tour through every county in Oregon.

A mentor in the Erase the Wait program, J. decided to become a living donor after his wife, Nancy, experienced kidney failure after a battle with polycystic kidney disease and chronic kidney disease. But sometimes a person who wants to donate a kidney is incompatible with the recipient. Luckily, a paired donation program through Legacy Health created a pathway for J. to donate to a compatible recipient and his wife to find a match as well.

"The feeling of knowing that your kidney is helping someone and their loved ones have a better life is a huge blessing," J. told Donate Life. "I would do it again in a heartbeat."

Justice Williams

As a newborn, Justice Williams faced a fight for his life. He was just 4 months old when he was added to the waiting list for a liver transplant after being diagnosed with biliary atresia, a rare disease of the liver and bile ducts that occurs in infants.

The outlook was grim for the family – the waiting list was long, and his health was deteriorating, according to Donate Life NW. Luckily a family friend found out she was a compatible living donor and stepped forward to give a portion of her liver to baby Justice, saving his life.

Carlos Aguilar

Carlos Aguilar was still in school when what seemed like a problem with his knee led to an exam and biopsy, and exposed a far greater health condition: His kidneys were failing.

Carlos spent six years waiting for a transplant from a matching donor. During much of that time he was on dialysis, which "took a lot of energy out of me," he said. Fortunately a family acquaintance learned about Carlos' condition at their church, stepped forward to be tested and was a blood and tissue match.

According to Donate Life Northwest, the Aguilar family believes the importance of registering as an organ, eye and tissue donor is clear: "A greater diversity of donors means better chances of matching for everyone on the waiting list."

To tell your legislators you support living donors through Oregon SB 796, click here.