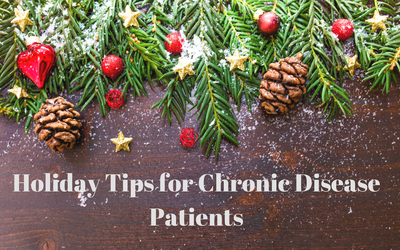 The holiday season is a time for fun, laughter and connecting with close friends and family. However, the holidays can take a toll on people with chronic health conditions as they travel to visit loved ones and engage in traditions such as baking, decorating and shopping. Here are five things that chronic disease patients should think about going into December:
If you are traveling, prepare ahead of time.
Traveling away from home can be stressful for many patients, but it doesn't have to be. As you begin to prepare for your trip, we recommend making a list of all the essential items, tools and medications that you need to bring. If you aren't sure what is necessary, contact your doctor to check. Additionally, it is always good to look into treatment centers, pharmacies and doctors' offices in the area you will be traveling to. Then, if you have an emergency, you will know where to go.
Listen to your body.
While everyone may want to spend an afternoon baking, a day shopping or an evening caroling, it's important that you recognize your limits when it comes to activities outside of your normal routine. Fitting in holiday fun could lead to stress, more physical exertion than you're used to or not getting enough rest, and these changes could cause you to feel lethargic or result in your disease flaring up. Pay attention to your body, and if you aren't comfortable doing an activity, decline the invitation.
Sleep helps prepare you for your day – and your crazy relatives.
It is not unusual for everyone to get less sleep around the holidays, whether it is from stress, excitement or being in an unfamiliar place. Studies have shown how vital sleep is to our long-term health. If you require any special sleep accommodations – a blanket, noise machine or dark setting – and you're away from home, let your host know or pack it yourself. A good night's sleep can be the difference between enjoying an evening of caroling or having to stay in.
Holiday food can be so good and so bad for all of us.
The holiday season is known for great food and many chances to overindulge before you implement your New Year's resolutions. Like anyone, chronic disease patients should enjoy the holiday spread, but be aware of forbidden foods that may negatively affect your disease. For example, patients with lupus are encouraged to eat fresh fruits and vegetables and to limit consumption of processed foods, which can cause inflammation, according to an article in Everyday Health.
Be aware of how temperature and altitude changes may affect you.
Patients, especially those with arthritis, can be greatly affected by temperature and altitude changes.

"I have Ehlers-Danlos syndrome, and in the winter I can feel the pressure bearing down on my bones. I can feel the fibers of my muscles and tendons get stiff, and shivering or tensing up from the cold really wears me out more. I pop and I lock-up easily. It's like being an unoiled Tin Man," a patient said in an article from the Mighty.

While colder temperatures and higher pressure can intensify your symptoms, warmer weather may alleviate your pain. If you happen to be traveling to a different climate for the holidays, talk to your doctor about what you should expect and if additional treatment is required.

To read more about how altitude and temperature may affect specific conditions, click here.

The Chronic Disease Coalition would like to encourage everyone to make the most of your holiday season, whether you are in a hospital, surrounded by friends and family, or celebrating alone – it is a time to for all to be thankful and remember you are loved.