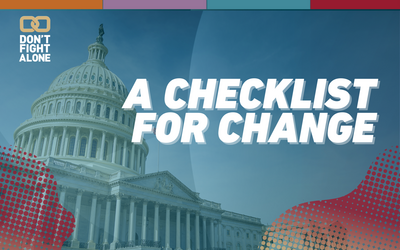 Did you know that 7 in 10 Americans die from a chronic illness? That's why it's crucial to raise awareness – but more importantly, to take action – during Chronic Disease Month.
Join us in advocating for change and making a difference in the lives of patients. Here are some key federal priorities that need your support right now, today.
Take 3 minutes and send a letter (it's pre-written, but customizable) on all of these bills that will change our health care system for the better.
YOUR CHECKLIST FOR CHANGE:

HELP COPAYS ACT
Dozens of red and blue states are banning copay accumulator programs because of their impact on patients' families, and it's time Congress followed suit. Tell your representatives that ALL copays count!

SAFE STEP ACT
This is a critical year for the #SafeStepAct. It passed out of committee and is on its way to the full Senate. We have to keep the pressure up and tell senators: Now is the time to finally reform step therapy!

LIVING DONOR PROTECTION ACT
Every year, 6,000 Americans become living organ donors. We have an obligation to protect them from insurance discrimination and to encourage others to follow their lead in giving the gift of life. Let's pass the Living Donor Protection Act this year:

CLOSE THE MEDIGAP ACT
Millions of Americans on Medicare are left footing the bill for treatment that their insurance doesn't cover because they don't have access to Medigap. We must expand this access immediately, for the benefit of all chronic patients.

BETTER EMPOWERMENT NOW TO ENHANCE FRAMEWORK AND IMPROVE TREATMENTS (BENEFIT) ACT
Patient voices deserve to be heard at every level of the decision-making process, including with the FDA. While much progress has been made on this, we must ensure that patient benefit is included as a consideration when new treatments are evaluated. Let's pass the bipartisan BENEFIT Act as soon as possible.

PHARMACY BENEFIT MANAGER TRANSPARENCY ACT
Drug costs are too high. Unfortunately, the solution is extremely complicated – but we must start by requiring transparency from those who set the prices. Join us and make PBM reform a reality now, so we can begin to lower costs for chronic patients.

INCREASING MENTAL HEALTH OPTIONS ACT
Mental illnesses are some of the most common chronic conditions. There is a bill in the U.S. Senate that would expand access to rural Americans by establishing key incentives for providers to practice in underserved areas. Join us in support.
JULY IS CHRONIC DISEASE MONTH
Chronic disease patients face discrimination every day from long-winded insurance policies to workplace accommodations and societal expectations. Stories from patients themselves serve as crucial indicators for good and bad health care practices.