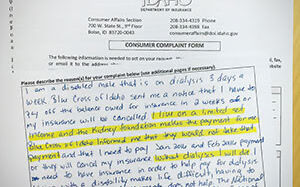 2.26.16

On the heels of an insurance company discriminating against a dialysis patient in Idaho through plan design, the Chronic Disease Coalition has learned about another patient receiving similar treatment – this time through an insurer rejecting a charitable organization's payment to help the patient pay for the care they need.

Shane Pendlebury of Blackfoot used to work repairing old medical equipment. However, with his diagnosis of end-stage renal disease (ESRD), and the requirement that he undergo dialysis treatment three times a week, he was forced to move onto disability and change his insurance.

ESRD patients are eligible for Medicare regardless of age, and Shane was quick to sign up for the program. However, Medicare does not cover everything, and so he also enrolled in a supplemental plan with Blue Cross of Idaho.

The cost for this necessary supplemental insurance was high, and with five children to take care of, Shane was unable to afford the monthly premiums all on his own. He sought help from the American Kidney Fund. The organization provided financial assistance that allowed the Pendlebury family to make ends meet and have one less worry while dealing with the other consequences of Shane's illness.

However, within weeks, Blue Cross of Idaho informed the family their insurer would no longer accept payments from the American Kidney Fund or any other third party.

For many patients, especially those suffering from long-term conditions and in the greatest need of financial help, independent charities provide a lifeline in the form of third-party payments for insurance premiums. These payments are often essential for people not only with end-stage renal disease, but also cancer, hemophilia, kidney disease, HIV and rheumatoid arthritis, to afford their health care.

No explanation was given to the Pendleburys about why Blue Cross would no longer accept third-party premium assistance. Without that lifeline, the family was unsure how they were going to maintain their coverage. Without dialysis treatments, Shane would die.

"It was a very stressful time," he said. "I was wondering if I was going to have to borrow money from my family."

Shane has filed a complaint with the Idaho Department of Insurance in hopes of protecting patient rights. By his estimates, about one in four kidney patients are able to afford all of their necessary health care coverage on their own.

"Of the 75 that aren't, only about 10 have patient advocates helping them," he said.

The Chronic Disease Coalition is worried about those patients too. Join the coalition now to get updates on Shane's story and learn how you can advocate for patients nationwide.