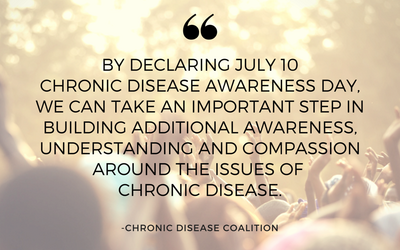 7.13.16 The Chronic Disease Coalition has announced its support for an effort led by Good Days, a chronic disease patient service and advocacy organization in Texas, to create a Chronic Disease Awareness Day. The Lund Report in Oregon this week published an opinion piece by Scott Bruun, executive director of the Chronic Disease Coalition, in support of this initiative. Here's what Bruun said:
Across our state and across our country, chronic disease affects countless lives. Both my daughter and I have type 1 diabetes, and even just this week we both had to sit down and strategize the right amount of insulin, blood test strips, snacks, emergency glucagon, pump batteries and spare syringes that she would need to pack for a sports camp. This week I also can't stop thinking about a friend who is on life support in a Seattle hospital as he undergoes treatment for scleroderma. Nor can I stop thinking about my friend and former colleague, state Rep. Vic Gilliam, who along with his family is now contending with his ALS diagnosis. Later this summer, a friend from Michigan will come to stay at our house for several days; just this year, he was diagnosed with end stage renal disease (kidney failure) and will have to engage in daily dialysis treatments during his visit. Chronic disease is everywhere and it's expanding. Yet it still seems that many of us remain in the dark about the scope, cost and complexity of chronic disease in modern America. That is why we should fully support efforts by Good Days that made July 10 of last week the first Chronic Disease Awareness Day. Good Days, a chronic disease patient service and advocacy organization based in Texas, along with other individuals and organizations, is hoping to use the first awareness day as a catalyst to promote long-term education on chronic disease issues. The Oregon legislature should recognize this though a proclamation which would, going forward, make July 10 Chronic Disease Awareness Day in Oregon. As both a diabetes patient and someone who does work in the world of patient advocacy, I am intimately aware of the problems of chronic disease. I see the struggles related to it every day. My condition, thank goodness, does not prevent me from going to work, spending time with my family, or doing any number of things that most of us would consider normal activities. Yet for hundreds of thousands of Oregonians and millions of Americans with chronic disease, this is simply not the case. The Center for Disease Control estimates that 117 million Americans, roughly one-third of the population, have at least one chronic illness. One in four Americans has at least two. It is no wonder then that chronic disease is the leading cause of death, responsible for seven out of 10 U.S. deaths. Every single day, 4,300 Americans will die of chronic-disease-related causes. On top of the human toll, of course, the sheer cost of chronic disease should get us to take notice. About 86 percent of all health-care spending in the United States goes to fighting chronic disease. Diabetes alone costs our country more than $322 billion a year. And while the number of patients and the costs they have to pay grows, the support that exists for them is diminishing. Each day it seems new roadblocks are thrown up that prevent patients from getting the care that they need. Whether it is the ability to see a certain doctor, visit the provider of choice, or even accept voluntarily charitable assistance, chronic disease patients are seeing their options diminish across the board. It is not hyperbole to say that this is one of the major issues affecting our country. Yet despite the breadth of the problem, there is precious little public recognition of it. Those among us fortunate enough to not have a chronic condition often take good health for granted. We don't think about the struggles that patients experience in going about their daily lives, about being too sick to go to work, or about how they will come up with the out-of-pocket funds necessary to pay never-ending treatment and pharmaceutical bills. That is why it is so important to take some time to consider what those with chronic diseases must go through on a daily basis. By declaring July 10 Chronic Disease Awareness Day, we can take an important step in building additional awareness, understanding and compassion around the issues of chronic disease.
Scott Bruun, a former state legislator, is the Executive Director of the Chronic Disease Coalition and the Oregon Advocacy Chair for the American Diabetes Association. You can read more from The Lund Report by clicking here.