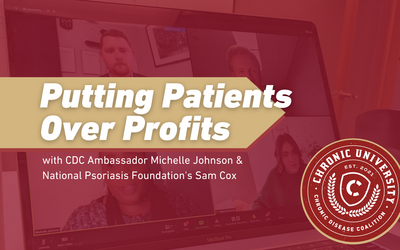 Watch our latest Chronic University Session below!
Step therapy, also known as fail first treatment, is an insurance tactic that requires patients try and fail on cheaper medications before stepping treatment up to the doctor's recommendation. This can delay access to treatments while patients struggle with dangerous and debilitating side effects.
In this Chronic University session, we sit down with endometriosis advocate and CDC Ambassador Michelle Johnson to hear her experience dealing with step therapy protocols.
We also heard about key legislation and states that are taking action against this harmful insurance tactic from National Psoriasis Foundation Central State Government Relations Manager Sam Cox.
Watch the recording to learn more and don't forget to register for our upcoming Chronic University sessions.