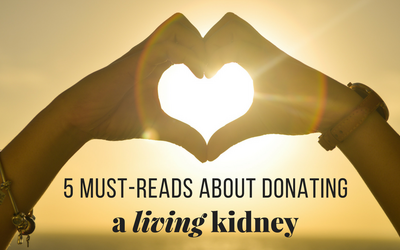 4.10.2017 April is National Donate Life Month, a time to raise awareness on the importance of organ donation, encourage people to register to become donors and celebrate individuals who have already given the gift of life. Beyond saving lives, organ donors help patients return to their former lifestyles and often allow them to become less dependent on costly medical treatments to survive. Every organ donation provides lifesaving potential, but the need for living donors – particularly live kidney donors – continues to rise. Of the 120,000 men, women and children waiting for vital organ transplants, 82 percent of these patients are in need of a kidney. Since 1954,more than 50,000 living donors have donated their kidneys to help patients with kidney failure. These living donors allowed thousands of people facing end-stage renal disease to lead longer, healthier lives, no longer dependent on regular dialysis treatments to live. From a loving husband donating his own kidney to save his wife's life in Oregon, to a 6-year-old receiving a lifesaving kidney transplant in Florida, here are five stories that highlight the growing need for live kidney donation and celebrate the gift of life.
Live kidney donation rate falling
Diagnosed with chronic kidney disease when she was 34, Stacy Sabin needed to receive a kidney or go on dialysis treatment for the rest of her life to stay alive. In her time of need, Sabin, of Bend, Oregon, was surrounded by loved ones willing to do anything they could to save her life.
Flight attendant finds unlikely kidney donor
Battling chronic kidney disease for more than 15 years, Alaska Airlines flight attendant Jenny Stansel suddenly fell ill during a flight and learned that her kidneys were functioning at only 6 percent of capacity. She desperately needed to find an organ for a transplant. After reaching out on social media and to her coworkers, she found her match.
You can read the rest of the story here.
Florida doctor turns to Facebook to search for a kidney donor
Dr. Stuart Himmelstein of Delray Beach, Florida, has spent the past four years waiting for a much-needed kidney, but like nearly 120,000 Americans on a transplant list, he's waiting on a miracle. But Himmelstein's goal goes beyond just finding a donor for himself. Finding kidney donors through social media could significantly decrease the number of people waiting on kidney transplants.
Read more about Himmelstein's story in the Palm Beach Post.
6-year-old's kidney donor knew he'd be a match
After learning that a little boy in his early childhood family education class needed a kidney transplant, Justin Sandmann decided to get tested and give a part of himself to 6-year-old Gabe Speckel.
"I've never had second thoughts. 100 percent none," Sandmann told the Mankato Free Press in Minnesota.
You can read the whole story by clicking here.
Live kidney donors are in high demand in Washington state
The need for live kidney donors remains high, especially in Washington state, where kidney patients often travel from North Idaho, Montana and Alaska because of a lack of transplant programs near their own homes.
Today, Shelby Whitson is one of more than 1,600 people in Washington waiting to receive a lifesaving kidney transplant.