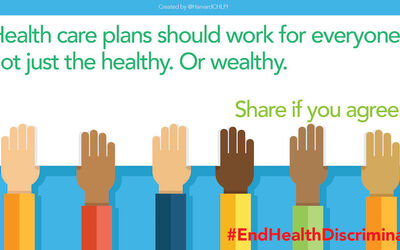 11.3.16

The Center for Health Law and Policy Innovation at Harvard Law School and patient advocacy partners in seven states have filed complaints against health insurers in hopes of ensuring vulnerable patients receive the health care and treatment they need.

The complaints, filed with the U.S. Department of Health and Human Services' Office for Civil Rights, are part of a new advocacy campaign aiming to enforce the health care rights that the Affordable Care Act (ACA) guarantees.

The center launched the campaign in response to highly restrictive and discriminatory health insurance practices such as refusing to cover key medications and requiring high cost-sharing for all treatments used to address certain health conditions.

The Office for Civil Rights is supposed to enforce the Affordable Care Act's anti-discrimination regulations in state health insurance Marketplaces.

"Drawing upon CHLPI's extensive research and new avenues for civil rights enforcement under the ACA, the campaign aims to strengthen protections in the health insurance Marketplaces and eliminate insurer practices that prevent vulnerable patients from receiving the care and treatment they need," the Center for Health Law and Policy Innovation stated on its website.

Robert Greenwald, CHLPI's faculty director and clinical professor of law at Harvard Law School, said the goal is to "shine a light on discrimination occurring under the cloak of supposedly neutral insurance plan benefit design."

"When an insurer requires chronically ill patients to pay a disproportionate share of the cost of medication it violates federal law," Greenwald said. "These are landmark complaints that will benefit everyone looking to receive equitable, comprehensive health care through the Marketplaces by helping to define anti-discrimination law at a time when insurers are covering less and less."

The state partners include AIDS Alabama, AIDS Research Consortium of Atlanta, AIDS Foundation of Chicago, CrescentCare (formerly the NO/AIDS Task Force) in Louisiana, Nashville CARES, AIDS Resource Center of Wisconsin, and AIDS Law Project of Pennsylvania.

Complaints were filed against the following:

• Humana in Alabama, Georgia, Illinois, Louisiana, Tennessee, and Texas
• Cigna in Georgia, Tennessee, and Texas
• Highmark in Pennsylvania
• Independence Blue Cross in Pennsylvania
• UPMC Health Plan in Pennsylvania
• Community Health Choice in Texas
• Anthem Blue Cross Blue Shield in Wisconsin

The Chronic Disease Coalition is among groups concerned about these types of discrimination against people with chronic conditions, along with efforts to force people with pre-existing conditions onto Medicare and Medicaid plans rather than allowing them to choose the best health plan for their situation.

You can read the full CHLPI blog post by clicking here.