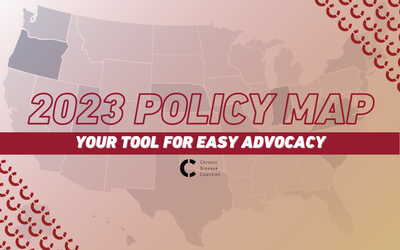 Here at the Chronic Disease Coalition, we fight for good health care policy across the country. From Medigap on the East Coast to copay accumulators on the West Coast, there are hundreds of bills that impact patients' lives.
To help patient advocates and partner organizations monitor and engage on these issues, we created The Chronic Disease Coalition Policy Map. This map has a list of all the priority bills currently in the state, with links to the legislation and, if there is one, a CDC call-to-action.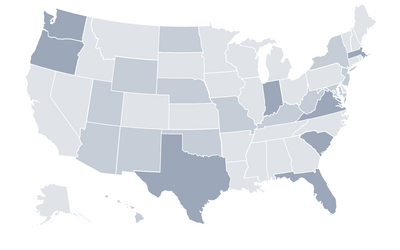 WHAT IS IT?
The Chronic Disease Coalition is actively involved in state legislatures across the country on our priority policy issues. Our policy map is a compressive look at each bill with direct links to learn more about the issues, and then get active on them.
We know that our core legislative issues reflect only some of the challenges faced by chronic disease patients, which is why the map goes beyond just our policy priorities. Our ambassadors also alert us to bills they are tracking in their state, as do other patient-led advocacy groups.
WHO IS IT FOR?
The policy map is for advocates at all levels. New advocates to seasoned legislators and lobbyists can get value from this tool. We built the CDC Policy Map for the busy advocate who doesn't have time to track individual bills on a daily basis, but wants to be knowledgeable about what's happening in their state
HOW CAN YOU USE IT?
Using the policy map is easy! It's on our home page, or you can go to our "Get Involved" section and navigate to the "Policy Map" tab. From there, click the state you are interested in learning more about and see the issues we are engaged in.
This tool is at its best when it's used by many. Share the map with your friends, family, and other organizations you're involved with!
Don't see your issue? Reach out to Policy Director, Nathaniel Brown (nathaniel@chronicdiseasecoalition.org) to add your bill to the map.