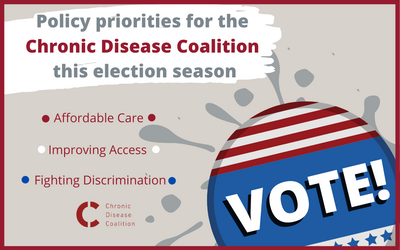 Our nation continues to navigate an unprecedented public health pandemic in the midst of an election year. One thing is for certain: All Americans deserve access to high-quality care. Conversations about the future of our health care system are happening now. At the Chronic Disease Coalition, we want to ensure our nation's elected officials understand we need to put patients first. Read on to learn more about the CDC's policy priorities.
Improving Access
Ensuring patients have access to quality, affordable health care is a crucial part of the CDC's mission. In order to improve access for patients and support a more accessible health care system for all, the CDC is focusing in on a number of key issues.
Heading into election season, the CDC will continue to support adequate coverage protections and essential health benefits for patients with rare, chronic or pre-existing conditions. Additionally, the coalition will continue to advocate for expansion of health care providers covered in-network while addressing harmful insurance practices, including step therapy protocols, nonmedical switching, excessive prior authorization requirements and more.
Improving access and advocating for transparent practices is an important part of protecting the longstanding doctor-patient relationship, which allows chronic disease patients to get the care they need.
Affordable Care
Equally as important as improving access is ensuring care is affordable for chronic disease patients across the nation. These protections include stopping insurance companies from harmful price gouging and steering.
Safety net programs like charitable premium and copay assistance programs provide vital financial relief and allow patients to access high quality care without having to choose between paying for their lifesaving medication or rent. The coalition will also promote transparent, fair benefit plan designs, exposing unjust cost shifting and the reduction in treatment adherence since the rise of copay accumulator programs.
Treatment for chronic disease patients can be especially expensive and addressing the financial burden associated with patient care, including transportation, surprise medical bills and other costs arising from crucial out-of-network care is an important part of the CDC's advocacy.
Fighting Discrimination
At the coalition, we fight chronic disease discrimination to improve the quality of life for patients, caregivers and families. This involves raising awareness and educating chronic disease stakeholders to decrease stigma and improve patients' social, physical and mental health outcomes.
However, discrimination doesn't always occur at the hands of your doctor or insurer. The CDC will also be promoting fair treatment of chronic disease patients in schools and the workplace, guaranteeing reasonable accommodations are made in accordance with state and federal law.
These three policy areas will be fundamentally important as we look to uphold patient rights across the nation. Ensuring patient voices are heard by policymakers will be key in protecting our most vulnerable communities and fostering a more equitable health care system for all. Share your story and become an advocate with the CDC today.