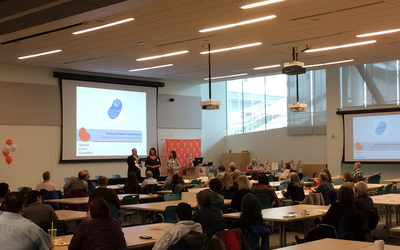 3.7.2017

On March 4, the Chronic Disease Coalition attended the National Kidney Foundation's Patient & Community Education Symposium in Portland, Oregon. Organized in partnership with the Portland Kidney Group, the symposium is an annual event that brings together patients and their families, caregivers, social workers, advocates and local community resources.

Hosted at the Oregon Health & Science University, this year's event was modeled after the theme: "Fighting kidney disease is a team effort." The symposium aimed to help attendees "learn how to best utilize your resources to fight kidney disease."

Featuring a variety of speakers, guest panels and community organizations, the Portland Patient Symposium provided an important overview of the many life changes and issues that kidney patients encounter during diagnosis, treatment and throughout the rest of their lives.

In what was a great summary of the symposium's overall goal, one panelist explained that by taking steps now to arm yourself with information about kidney disease, you could empower yourself and others in the long run. And that's exactly what the symposium was able to achieve.

Topics covered included end-stage renal disease symptoms and treatment, education and advocacy, the side effects of dialysis treatment, kidney disease management, the kidney transplant wait-list process and kidney implant innovation and research.

The Chronic Disease Coalition hosted a resource booth to help inspire and encourage attendees to advocate for patient rights and share their stories.

As dialysis patients continue to face discrimination from health insurers, the time for patient advocacy has never been greater.

Although the Centers for Medicare & Medicaid Services recently halted an interim final rule that would have prevented dialysis patients from using charitable assistance to help pay their insurance premiums, health insurers continue their efforts to try to dictate what health plans dialysis patients can enroll in and to reject their premium payments – regardless of a federal judge ruling against that practice.

Fighting and advocating for the chronic disease community will always be a team effort, and we encourage you to join the Chronic Disease Coalition as we work to together to protect patient rights.