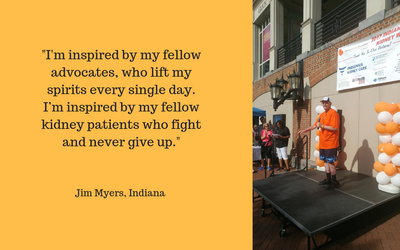 Nearly 40 years ago James Myers was diagnosed with polycystic kidney disease (PKD), which is an inherited form of kidney disease. Because Myers was tested early, he was able to postpone dialysis for 23 years and received a kidney transplant only four years after that. An Indiana native and attorney, Myers has spent his life engaging in advocacy work on behalf of kidney patients and others living with chronic diseases. Read more about Myers' passion for advocacy in our interview. Q: Why did you first become involved in advocacy work?

A: I was in my first year of dialysis in 2012 when the Centers for Medicare and Medicaid Services had threatened to cut services to dialysis centers. This meant that we could lose support staff, nurses, dialysis techs, social workers and dieticians. The people I took dialysis with were very ill, often coming to the center by ambulance, on a gurney or crutches, in walkers and wheelchairs. For all practical purposes they were helpless.

I was an old trial lawyer, a plaintiff's lawyer, and I did not look over injured people – I helped them. At that moment, I decided I was the only one in that room that could really help them and I accepted my responsibility. I put a petition up on Change.org, l wrote to newspapers, I did interviews, I wrote articles, I joined many kidney organizations and I became active on social media. I learned that I am a kidney advocate and I love fighting for others when they can't.

Q: When did you first begin experiencing chronic disease symptoms and how did you feel after receiving your initial diagnosis?

A: I've lost five members of my family to PKD, including my father. I began experiencing issues after he passed in 1983. I was diagnosed at the age of 25 by a simple X-ray, and at the time, I was a practicing attorney with a wife and a child. Because of my experience with my dad, this news came as a horrible blow to me. My dad died after having battled congestive heart failure, uremic poisoning and dementia, which were all secondary to PKD. I felt that I would die soon.

Q: What inspires you?

A: I'm inspired by my fellow advocates, who lift my spirits every single day. I'm inspired by my fellow kidney patients who fight and never give up. Joy comes to me every time someone receives a transplant. My friends on social media inspire me with their continued efforts to raise awareness. The organizations and their members that I belong to bring me renewed vigor and positive reinforcement. I am learning so much from my fellow advocates within the Chronic Disease Coalition – their perseverance is an inspiration to me.

Q: What is one piece of advice you would offer to others who are battling a chronic disease?

A: Never ever give up, and advocate for others. Next to raising my son, this is the most fulfilling and meaningful thing I've ever done. If you are able, help your fellow patients. I live by this motto I have seen on a Facebook meme: "I'm a Kidney Patient the rest of my life, but I still have brain and I still have my voice. Therefore, it is my DUTY to advocate for those who cannot advocate for themselves the rest of my life."

Q: What is the importance of support groups, both in-person and online? How can newly diagnosed patients find a support group near them?

A: It is very, very important! When I was first diagnosed, I felt very alone, and I think other people feel that way as well. The support groups made me recognize that there were others like me who had battled the disease longer. This gave me hope and others as well. Additionally, support groups can teach you how to more effectively manage your disease and what you can do to make life better. If you need advice or a resource for information, members in support groups can help.

Finding them is easy – Google it, check on social media or ask an experienced friend for help. You will be surprised just how many people and sources can help and how many groups are available to you by simply making a phone call or pushing a button. Groups like this may be in your neighborhood, or as close as your smartphone.