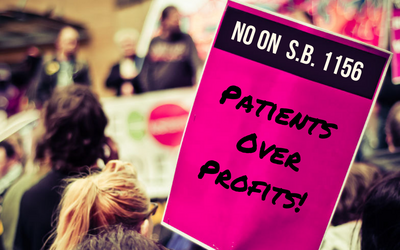 Chronic disease patients breathed a collective sigh of relief this week after California Gov. Jerry Brown vetoed legislation that would have devastated patients suffering from long-term and incurable health conditions. "This bill goes too far as it would permit health plans and insurers to refuse premium assistance payments and to choose which patients they will cover," Gov. Brown wrote in a message to the California State Senate. The Chronic Disease Coalition agrees. Senate Bill 1156 would have put insurance companies' profits over patients' needs. Recent news coverage has taken note that "health plans operating in the state were in favor of the legislation," which would give power to the health plans to deny coverage to patients who rely on financial assistance to pay their bills. While a primary target was the kidney patient community – patients with kidney failure rely on regular dialysis treatments to survive, and they need insurance so they can cover the cost of these treatments and in many cases to remain eligible or transplants – SB 1156 represented a slippery slope for the entire chronic disease community, allowing insurers to decide who is eligible for charitable financial assistance to pay for their medical care. "We'd like to thank Gov. Brown for doing the right thing and standing up to insurance industry lobbyists and special interest groups pushing this harmful legislation," Chronic Disease Coalition Executive Director Scott Bruun said. "We know the insurance industry will continue proposing similar bills in other states. We hope legislators will follow Gov. Brown's example and block bills aiming to limit access to health care for the millions of people living with chronic health conditions in the United States." The bill was opposed by a wide range of patient advocacy and social justice organizations who signed on to a letter outlining their concerns. These groups included:
Chronic Disease Coalition
American Liver Foundation
California NAACP
California Hepatitis C Task Force
Chronic Care Coalition
Pulmonary Hypertension Association
Fabry Support & Information Group
FAIR Foundation
Good Days
Neuropathy Action Foundation
Patient Services Incorporated
US Hereditary Angioedema Association
The nonprofit American Kidney Fund issued a statement commending the governor for vetoing SB 1156. Among its programs, AKF provides charitable assistance to help kidney patients on dialysis afford their health insurance, whether commercial insurance or Medicare plans. "The American Kidney Fund commends Governor Brown for protecting California's low-income dialysis and transplant patients from the disastrous effects of SB 1156," said LaVarne A. Burton, president and chief executive officer of the American Kidney Fund. "For 21 years, low-income California kidney patients have turned to AKF and our federally approved Health Insurance Premium Program for help with the devastating financial impacts that accompany this disease. This year alone, we have helped close to 4,000 people statewide. We are grateful that Governor Brown recognized the importance of AKF's program to the people of California." As many as 100 people sent letters to their California legislators through the Chronic Disease Coalition, and we'd like to thank all of our members who helped in this effort. Together, we can make a difference.