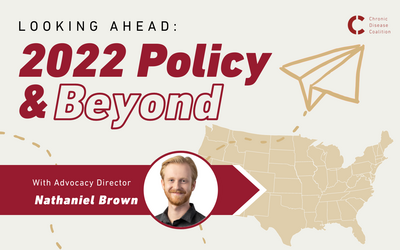 It's hard to believe there are just two months left in the year. The Chronic Disease Coalition has spent 2021 actively engaging in policy development from Massachusetts to California and everywhere in between, all while connecting with our patient advocates, partners, and members as often as possible. While most legislative activity in state capitals is winding down, the CDC is ramping up for what we expect to be a busy 2022.
The Coalition is taking an intentionally collaborative and strategic approach to our advocacy work in the coming year. This fall, we're meeting with our board of directors, members, ambassadors and partners to learn more about where we have been most effective in the past, where we can continue to flex our political muscle, and which issues we can best amplify the patient voice.
We're sharpening all the tools in our toolbox, making it easier for our advocates to engage in key health care issues through policy testimony, news editorials, letters to legislators and so much more. Our patient advocates are our strongest asset – that is why working hard to continue tapping into the incredible knowledge and influence of this network to educate leaders about the impacts their decisions have on chronic disease patients from coast to coast.
Part of the strategic planning process this fall has also been to learn more from our partners in various states about where support is most needed, and where the CDC can play a proactive role in policy development. We want to ensure we're engaging patients and advocates across the country, and in so doing, move the needle in influential states that present the greatest opportunity to achieve our legislative goals nationwide.
Above all, we want to continue making progress toward our mission of empowering chronic warriors everywhere to use your voice and story to create effective change in the American health care system.
Coming up in December, we will be rolling out our 2022 Policy Platform at a special edition of Chronic University:

We hope you'll join us to learn more about what we want to accomplish in the next year and how you can play an active role in getting us there. In the meantime, reach out with questions about policy stances, opportunities to engage, and your thoughts on where the CDC can create change.
We want to hear from you!