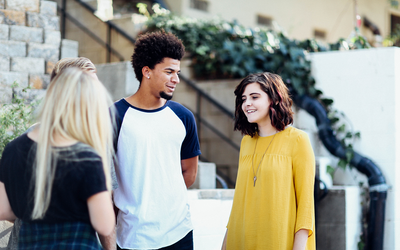 6.20.17 While June is Scoliosis Awareness Month, for the estimated 6 million Americans affected by scoliosis, treating and preventing the chronic disease is an ongoing and often challenging effort. Scoliosis, the abnormal curvature of the spine, predominantly emerges in children around the time of puberty and growth spurts, usually occurring in youths between 10 to 15 years old. Although many cases of scoliosis are mild, others can turn into crippling spine deformities that make it difficult to breathe or move – with severe cases requiring corrective surgery or the use of a back brace. What makes the disease even more complicated is that the most common type of scoliosis is idiopathic, meaning that the disease has no known cause. Many nonprofits and organizations are dedicated to raising awareness, improving prevention methods and building supportive communities to help those living with this chronic condition. Whether it's through the National Scoliosis Foundation – a patient-led organization providing peer-to-peer support, creating an online community and advocating for early detection – or Curvy Girls, a nonprofit that organizes a network of youth-led peer support groups throughout the world, disease awareness is steadily rising. But while these dedicated organizations are making a difference in the lives of those living with scoliosis, so are many passionate teen advocates. Here are the stories of three amazing teens working to raise scoliosis awareness and making big changes in their very own communities.
Scoliosis didn't bend teen's will to persevere
At the age of 10, Alexa Giovanni loved dancing too much to restrict her moves to the studio of Seven Lakes Dance. As she casually executed a backbend over the family sofa, her mother, Debbie Castro-Giovanni, noticed an unusual curvature in her spine – a discovery that left the fifth-grader's dancing career in the balance.
Click here to read the full story in The Pilot in North Carolina.
Empowered Lansing student becomes an agent of change for scoliosis testing in her school district
Leah Wiegers has lettered in swim, cross-country and power lifting, but that's not why she was named a Reaching for Excellence young achiever by a news station in Kansas. Wiegers was recognized for her determination to get mandatory scoliosis testing in schools.
Read the rest of the story here.
Meet the 2017 Queens – West Queen Rebecca Mobley
Diagnosed with severe scoliosis in August 2013, Rebecca Mobley felt alone and afraid. But that didn't stop her from becoming involved in the community and being a strong advocate for herself and others. An active Portland, Oregon, high school student and Shriners Hospital patient, Mobley didn't want anyone else to feel alone on their scoliosis journey, and so she became a scoliosis support group leader with Curvy Girls.