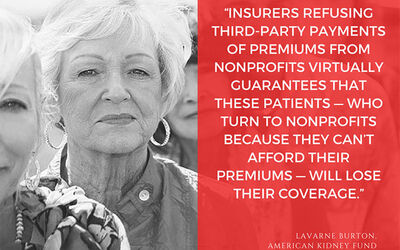 4.6.16

As patients continue to come forward in Idaho to put the spotlight on how insurance companies are discriminating against them based on chronic conditions, the American Kidney Fund is taking a stand and urging Gov. Butch Otter to "step in to ensure Idaho's most vulnerable, chronically ill individuals can rely on charitable assistance to maintain their health coverage."

In a letter to the Idaho Statesman newspaper, LaVarne Burton of AKF said a recent story about a cancer patient exposed insurers' efforts to avoid covering the state's sickest and most vulnerable patients. And it's not just people with cancer who are being targeted with this particular tactic, in which insurance companies refuse to accept premium assistance payments from nonprofits.

"Unfortunately, patients requiring three-times-a-week dialysis to stay alive aren't so fortunate," Burton wrote. "Insurers refusing third-party payments of premiums from nonprofits virtually guarantees that these patients — who turn to nonprofits because they can't afford their premiums — will lose their coverage."

The Chronic Disease Coalition is a group of individuals and organizations dedicated to protecting the rights of the chronically ill to get the health care they need to live, and we stand with the American Kidney Fund against this form of patient discrimination.

For more about the situation in Idaho, please click here.

If you've faced patient discrimination in any state, please get in touch with us to share your story.