It's no secret that service animals can play a crucial role in helping chronic disease patients navigate their day-to-day lives. Providing much needed emotional support is only the tip of the iceberg when it comes to the job's service animals have. Dogs, cats and even skunks can help chronic disease patients live with and manage their chronic condition.
Service-dogs are highly trained animals that can provide a number of benefits for patients, unfortunately patients are often forced to cover out of pocket costs to get this one-of-a-kind treatment and support.
Highly trained service dogs become life-savers for these central Ohio residents
Under the American Disabilities Act (ADA), dogs are the only animal that can be deemed an official service animal. Currently, there are nearly a half million active service dogs across the country, according to Share America, these dogs are trained to perform specialized tasks that their owner is either incapable of doing or would have an extremely hard time doing. This can include walking, blood glucose detection, emergency response and much more.
The power of service dogs is no secret to 10-year-old Jacob Getz from Ohio. According to an article from the Columbus Dispatch, Jacob was born with a rare genetic disorder that causes brain atrophy, and as a result, Jacob has frequent seizures.
"He didn't walk at 2 or 3 and didn't talk," said his mother, Maria Getz, told the Dispatch. "He was very standoffish and had anxiety, but he loved animals. One neurologist suggested we get a service dog."
Shocked by the initial price tag of $20,000-30,000, the Getz family was able to find Sit Means Sit, a local trainer that helped train the dog at a more affordable price, the article says. Since welcoming Oakley to the family, Jacob's condition has greatly improved.
"She knows to lay on him," Getz said. "She protects him from thrashing all over the place and keeps him from banging his head, arms and legs."
Kent and Farah from Massachusetts
While dog's may be the only official service animal under the ADA, many different types of animals can be utilized to fit the complex and personal needs of a patient.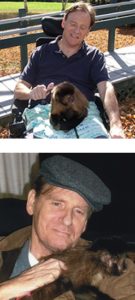 For Kent (Pictured Right) of Massachusetts, the value of his service monkey, Farah, cannot be overstated. According to an article from Helping Hands Monkey Helpers, Kent was paralyzed from the chest down after a terrible auto accident in 2006.
"When Kent came home, we adjusted to our new 'normal,'" says his wife Nancy. "Days were filled with managing a staff of PCAs coming and going from our home and overseeing Kent's care, appointments, and rehabilitation. When I brought up the idea of a service monkey, he was hesitant. He was worried that this would be something 'extra' that might bring more challenges into our life. After months of reading and watching Helping Hands website videos, we decided to apply for the program."
Farah joined Kent and Nancy's family in 2009 and has since been bringing joy every step of the way, "Where there was a darkness, there's now a light―a sparkling, small, funny, hyper, obedient, protesting, gentle, and unpredictable family friend―that's our Farah!"
Pictures from Helping Hands Monkey Helpers.
A new kind of therapy pet: a support skunk
In addition to service animals, Emotional Support Animals (ESAs) have been a growing trend across the country; unlike certified service dogs, ESAs require no formal training and are not considered service animals under the ADA.
Despite not having formalized training, ESAs can serve a vital role in chronic disease patients' emotional and mental well-being. While most people may picture a dog or a cat as an emotional support animal, they come in all shapes and sizes.
For the Jackson family in Medford, Oregon this comes as no surprise with their emotional support Skunk, Minnie Monster. Tom Jackson's son Connors has high functioning autism, the article reads, and when Jackson brought home Monster, he saw an immediate improvement.
"He very quickly became attached to Monster and less angry," Jackson told KOBI News. "The things he won't talk to me about I can catch him talking to monster about."
After seeing the bond that developed, Jackson thought it was time to get Monster officially certified as an ESA in the state of Oregon.
"I believe therapy pets – or at least the terminology – is overused," Jackson said. "But when you truly find that pet that truly is a therapy pet it's obvious and we really did."
Between emotional support and specialized training, animals can play a fundamental role in many chronic disease patients' lives. Sadly, service dogs are often not covered by insurance providers, forcing chronic disease patients to find new ways to afford these lifesaving relationships.
To learn more about how you can go about getting a service animal or to learn more about what an emotional support animal may mean for your well-being, check out this resource from Mental Health America.