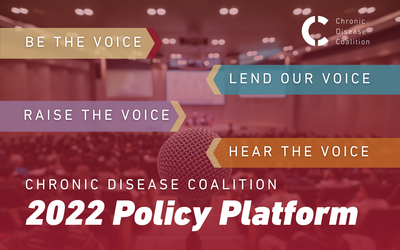 The Chronic Disease Coalition is committed to ensuring chronic patients are heard in statehouses across the nation. Through leadership in advocacy, strategic support for our allies, and patient education and empowerment, we will continue to find solutions for the chronic disease community.
Working closely with organizational partners, our patient ambassadors and our 10,000+ strong nationwide chronic network, the CDC has a patient-centered approach to legislative success in 2022.
BE THE VOICE
These issues have unique impacts on chronic disease patients, which is why we're leading the charge on this legislation.
We will support efforts to address harmful step therapy and prior authorization requirements across the country, so that chronic disease patients receive the treatment prescribed by their doctor when it is prescribed.
We will work to expand Medigap coverage in individual states, ensuring all chronic disease patients have access to this critical coverage, and fight for a federal fix that covers all Americans.
We will support the expansion of telehealth services that both improve patients' access to care and provide fair payment for providers.
LEND OUR VOICE
We're adding our collective voices to critically important conversations already taking place across the country.
We will support efforts to protect third-party assistance for chronic disease patients, including charitable premium assistance, and the elimination of harmful copay accumulator programs.
We will work to establish and support effective chronic kidney and rare disease task forces that ensure the patient perspective is represented.
We will increase awareness of public health issues impacting chronic disease patients and promote health equity at every opportunity.
RAISE THE VOICE
Chronic disease patients are their own best advocates. Our job is to help them point their megaphones in the right direction.
We will amplify the voices that are calling out harmful nonmedical switching processes that create uncertainty and extra costs for chronic disease patients based on forces outside their control.
We will empower patients to advocate for affordable access to needed medical treatments, including established and innovative prescription drugs. Lawmakers and regulators should be informed by direct patient experiences.
HEAR THE VOICE
We take an educational approach to all our policy issues. We must ensure decisionmakers have the facts and hear the stories.
We will listen to and amplify patients who have experienced discrimination in the workplace, at school and in daily life so we can better inform policy conversations throughout the country.
In the coming weeks and months, the Coalition will be heavily focused on preparing advocates for legislative sessions across the nation. We'll be sharing one-pagers, petitions and other exciting action items to ensure your voice is heard in 2022.
Check out some of our current action items and get involved by registering for our newsletter today.