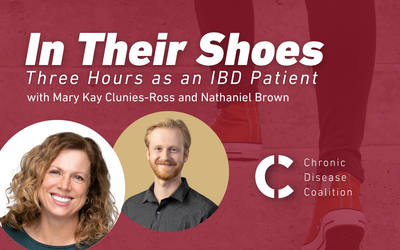 As part of the annual Crohn's & Colitis Awareness Week Dec. 1-7, we participated in an immersive experience led by our partners at Takeda. Takeda spearheads innovative treatments for Inflammatory Bowel Disease (IBD) and other chronic and rare diseases.
From start to finish, the entire experience was eye-opening and provided a necessary glimpse into the daily lives of patients with IBD. IBD is chronic inflammation of the gastrointestinal (GI) tract, and the term refers to both Crohn's disease and ulcerative colitis. That's the basic medical answer of what IBD is, but that doesn't come near to describing what living with it is like.
According to the Crohn's and Colitis Foundation, "Crohn's disease is a chronic inflammatory condition of the gastrointestinal tract. Symptoms include diarrhea (sometimes bloody), as well as crampy abdominal pain, nausea, fever, loss of appetite, weight loss, fatigue (tired, exhausted feeling), and, at times, rectal bleeding." Ulcerative colitis has symptoms that include "loose and urgent bowel movements, bloody stool, abdominal cramps and pain, and persistent diarrhea accompanied by abdominal pain and blood in the stool."

In other words, IBD patients can suffer from pain, fatigue, disruption and embarrassment. Depending on the state of their illness, symptoms can be constant, frequent, or unexpected flareups.
The "In Their Shoes" experience was designed to help Takeda staff understand the life of the patients they are working to help. After just three hours of simulated discomfort, awkward questions, and near-constant interruptions, we got newfound appreciation for how challenging "regular" life can be when you are also managing a chronic disease like IBD.
We were both happy when the three-hour guided experience was over, and it definitely helped us see the importance of the Coalition's advocacy work. Two key take-aways:
First and foremost, the patient-provider relationship is essential to ensuring patients can live their fullest lives. Patients need access to care and the treatments that their providers recommend. (Trust us, if you were prone to unpredictable bowel movements and exhausting abdominal pain, you'd want the right medication too.) Controlling health care costs is important, but the care plans of individual patients need to be decided in the doctor's office.
Second, it's never been more important to elevate the patient's voice when it comes to policymaking. Chronic disease patients have unique stories to tell, and we know that their perspectives are essential to shaping good policy. We spent a mere three hours "living" with IBD, and while we have a fresh perspective on what it's like, we can't speak to it like an actual patient can. Our job is help patients tell their own stories.
At the Chronic Disease Coalition, our number one priority is to tell patient stories. If you're living with IBD and want to share your experience with regulators and lawmakers, get in touch with us. You'll be in good company: several of the CDC Ambassadors, as well as one of our team members, live with this disease. We want to hear from you, and help you connect to the resources you need to make positive change in the health care system.