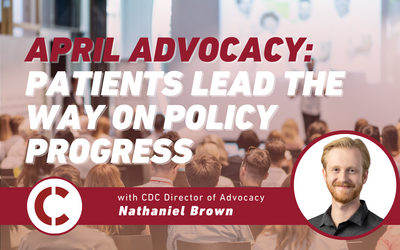 It's clear that the foundations we laid in the first few months of 2023 are paying off. Throughout April, we've seen significant progress on our priority issues, including mental health, Medicare supplemental insurance expansion, copay accumulator programs, and more.
This month, CDC ambassadors across the country have been active in advocating for issues important to them. In Illinois, CDC ambassador Michelle Johnson testified on a mental health pay parity bill, highlighting the importance of treating mental health care providers the same as other care providers. Meanwhile, in North Carolina, CDC ambassadors Cocoa Fenton and Deborah Kofoed sent a thank-you message to Gov. Cooper for his successful efforts to expand Medicaid in their state, recognizing the impact this will have on improving access to healthcare.
CDC advocate Gerry Langan also penned an op-ed in the Tallahassee Democrat about the impacts of copay accumulator programs. These programs limit the value of copay assistance programs and leave patients with unexpected costs. Gerry highlighted the need for policymakers to address this issue and ensure that patients have access to affordable healthcare – with an opportunity to do so immediately through a bill in Florida.
The CDC has also been weighing in across the country, with great news to share from a number of states. For example, Kentucky expanded Medigap access, Washington state reformed the prior authorization process, Maryland eased step therapy requirements, and New Mexico banned copay accumulator programs.
At the federal level, the CDC is calling for action from our network of patients and caregivers to support the Safe Step Act and the HELP Copays Act. These bipartisan bills will help lower costs and improve health outcomes for millions of chronic patients. Please take a minute and reach out to your senators today.
Finally, one of the highlights of the month was the CDC Director of Advocacy, Nathaniel Brown, speaking on a panel at the 12th Annual Life Sciences Patient Advocacy Conference in Philadelphia. This provided an opportunity to raise awareness and engage with patient advocacy groups and industry leaders about critical issues affecting public health – and more importantly, how to enact meaningful partnerships that can boost advocacy synergies.
We also attended an in-person Collaborating for Care event with fellow patient advocacy organizations, focused mainly in the IBD space. Read more about our trip to D.C. and key takeaways here.
From engaging with patient advocacy groups and industry leaders to advocating for policies that benefit chronic patients, the CDC is working tirelessly to create positive change month to month. By supporting the CDC's advocacy efforts and taking action to promote our policy priorities, we can all play a role in building healthier communities.