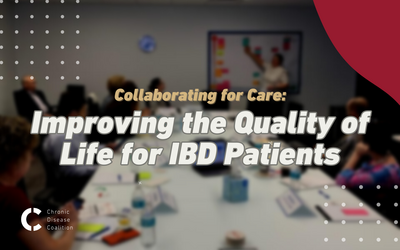 Last week, the Chronic Disease Coalition went to Washington, D.C. to join Collaborating for Care - an event which brought patients, health care professionals, and industry leaders together spread emerging best practices to patient-inclusive care. It was an amazing opportunity to explore a more holistic view of healthcare and spend time with fellow patient advocacy organizations and industry leaders working on issues similar to those of the CDC.
While the discussion focused on improving the quality of life for patients with inflammatory bowel disease (IBD), meeting attendees explored the disease's implications for mental health care access, food security and consistency, potential for intimacy, and impacts on sleep patterns.
IBD is a chronic autoimmune disease that causes inflammation of the gastrointestinal tract. It includes two main conditions: Crohn's disease and ulcerative colitis. IBD affects more than 3 million people in the United States alone, and its impact on patients' lives can be significant. Symptoms of IBD can range from mild to severe and may include abdominal pain, diarrhea, rectal bleeding, weight loss, and fatigue.
At the CDC, we have several ambassadors living with IBD and related diseases – like ulcerative colitis and irritable bowel syndrome. You can read their stories on our website.
Their experiences are similar to those shared by partners and advocates around the room during the event – organizations like the Crohn's and Colitis Foundation, Digestive Disease National Coalition, Girls with Guts, Global Healthy Living Foundation, Patients Rising, IBD Moms, and the South Asian IBD Alliance – and many others.
One of the key themes of the discussion was the importance of a multidisciplinary approach to treating IBD. This means that healthcare professionals from different specialties (such as gastroenterologists, nurses, dietitians, and mental health professionals) work together to provide comprehensive care that addresses the physical, emotional, and social aspects of the disease. But coordinating and accessing that kind of care can prove difficult, especially for low-income and rural patients, and the ramifications to patients' quality of life can be significant.
Another important topic that was discussed at the event was the role of patient advocacy in improving outcomes for people with IBD. Not necessarily patient advocacy toward policymakers, but in the doctor's office and at work, and other areas where patients find themselves with unanswered questions. We can make progress on this front by raising awareness, advocating for better policies and treatments, and providing support and resources to patients and their families when they're navigating this serious and complex diagnosis.
During the event, we heard from several patient advocates who shared their personal stories of living with IBD and their experiences advocating for themselves and others. These advocates emphasized the importance of patient empowerment, education, and access to resources in improving the quality of life for people with IBD.
Overall, attending this latest Collaborating for Care event was a valuable experience that provided thought-provoking discussion, a great deal of insight about IBD, the challenges patients face, the efforts being made to improve their care – and more importantly, how the Chronic Disease Coalition can continue to play a role in improving these patients' quality of life.