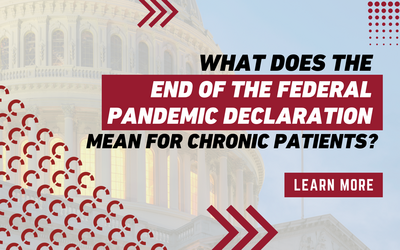 The COVID-19 pandemic has had a significant impact on chronic disease patients who require regular care and treatment. While the Biden Administration has announced the official end of the pandemic declaration effective May 11, that does not mean the end to the risks and challenges for chronic disease patients. As the emergency declaration lifts, it's important to understand the impacts, especially around telehealth access and Medicare and Medicaid.
Many (though not all) of the changes patients have been concerned about were addressed with the passage of the Consolidated Appropriations Act (CAA) of 2023, a bipartisan bill that President Biden signed in late December.
Changes to Telehealth Access
During the pandemic, telehealth services became an essential tool for healthcare providers to connect with their patients, especially those with chronic conditions. With the end of the COVID-19 declaration, there is some concern that telehealth services will no longer be covered by insurance providers, leaving patients without access to virtual healthcare. However, the Consolidated Appropriations Act of 2023 (CAA) expanded telehealth coverage, enabling patients to receive care from their providers via video or phone calls, at least through the end of 2024.
This includes provisions that allow Federally Qualified Health Centers (FQHCs) and Rural Health Clinics (RHCs) to offer telehealth services to Medicare beneficiaries through the end of next year, if not permanently. It also expands telehealth coverage for home health services, hospice care, and the treatment of end-stage renal disease.
Changes to Medicare and Medicaid
The CAA also includes a range of changes to Medicare and Medicaid, which are crucial sources of healthcare coverage for chronic disease patients. The act includes an expansion of Medicaid coverage for COVID-19 vaccines, testing, and treatment. It also extends the Medicaid Money Follows the Person program for five years, allowing eligible individuals to transition from institutions to community-based care settings.
For Medicare beneficiaries, the CAA includes a provision that limits the amount that can be charged for insulin in Part D, potentially saving patients with diabetes hundreds of dollars a year. There are other important changes to drug coverage as well.
Eligibility in Question
The pandemic declaration had barred states from disqualifying patients from Medicaid programs. With the end of the declaration, the U.S. Department of Health and Human Services has estimated that as many as 15 million Americans could lose coverage.
It's important to note that even though states will undergo these "redetermining" efforts, most patients are still expected to qualify for other insurance. If this is something you are concerned about, you should work with your state's insurance department to see what you might qualify for if you no longer qualify for Medicaid.
Culture Shift
For chronic patients, many of whom are immunocompromised, the pandemic is still a factor in daily life. Make no mistake that while ending the federal declaration is a big milestone in our global recovery, we must continue to amplify the voices of those who are still impacted. Further, we need to understand more and advocate for the newest wave of chronic patients; those with long-COVID.
During a Chronic University discussion in February, long-COVID patient Angi Smith emphasized the precarious nature of living with the disease – especially now that some of the safety nets are being called into question.
"I have bad days, and worse days," Angi said. "I have a lot of family support and I really don't know what I would have done without it. … It's not outside the realm of possibilities that I would have ended up homeless. I didn't have the capacity (to work)."
At the Chronic Disease Coalition, we will work hard to ensure that chronic patients are not left behind as the government turns its focus away from the pandemic.
It is important to note that many states have already passed legislation making some of these policy changes permanent. Additionally, the federal government has signaled its support for many of these issues, providing reassurance that chronic disease patients will continue to have access to the care they need.
As always, patients should stay informed about changes to healthcare policy and also speak with their healthcare providers about any concerns they may have.