Our goal for Chronic Disease Month (CDM) is to focus key audiences on the lives of chronic disease patients and to drive change in the healthcare system. No one wants pity; we are raising awareness about the challenges in order to turn that awareness into action.
Our preeminent event is our CDM23 Symposium. Out of recognition that 7 out of 10 people die from chronic diseases, we're putting together a content-rich program on Monday, 7/10. Targeted at journalists, lawmakers, and policy staffers, we will host three 30-minute panels to better understand the life of chronic disease patients and explore the policy fixes they need right now.
The theme this year is "Don't Fight Alone." Through that lens, we are highlighting legislative champions, patient-advocates, the provider community, and Chronic Disease Coalition partner organizations.

Session 1: Managing the High Cost of Chronic Disease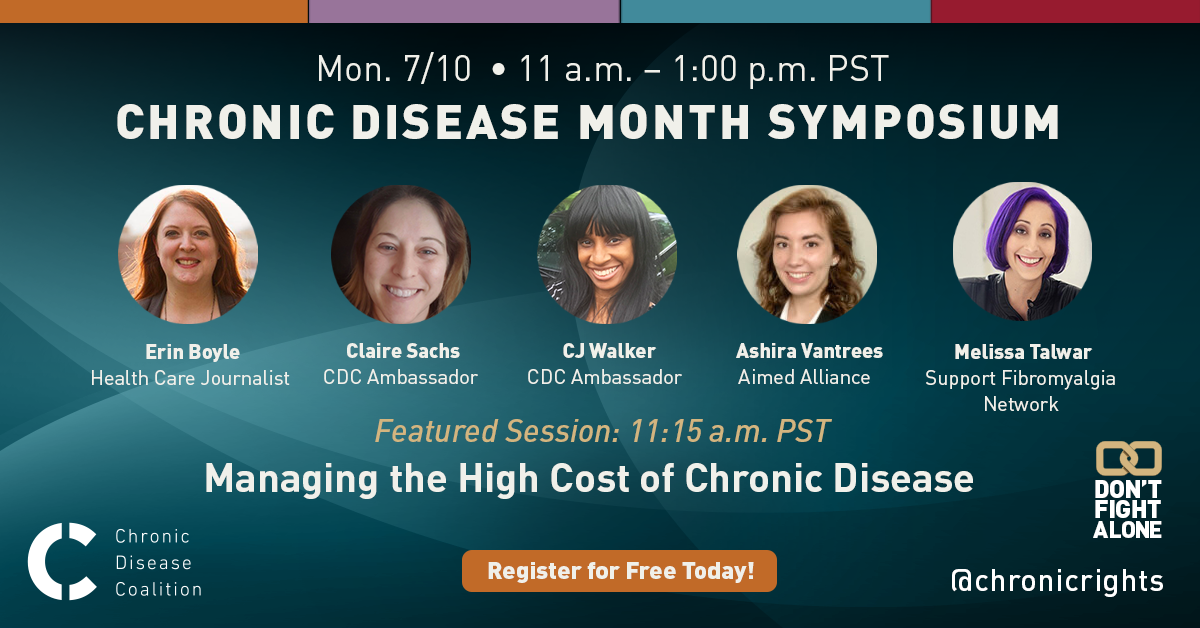 Hear from patients and experts about their experience bearing the financial, physical, and mental burdens of chronic disease – and what's being done to help patients around the country better manage chronic illness in all areas of their lives.

Erin Boyle, Health Care Journalist (Moderator)
Erin is an award-winning freelance health journalist specializing in reporting and writing about chronic conditions. In her 15+ career, she's written and edited for medical societies, medical magazines, health websites, doctors, patients, and more. When she's not learning all she can about medicine, she's reading, cooking, or building elaborate wooden train sets with her child.
Claire Sachs, CDC Ambassador and Patient
Claire is a chronic disease patient and advocate super star. She is a member of many chronic disease organizations and even started her own blog that aims to help chronic and autoimmune patients become their own advocates.
CJ Walker, CDC Ambassador and Patient
CJ is maintaining a non-diabetic A1C and sharing her story to anyone who will listen. She runs a blog called The Genetic Diabetic. She is currently involved with her local DiabetesSisters support group, volunteers with the Virginia Diabetes Council and serve as an American Diabetes Association Advocate/Influencer. She is currently active in Beyond Type 2, Type 2 Diabetes, Diabetes Team and Healthline TD2 online communities.
Ashira Vantrees, Aimed Alliance
Ashira Vantrees joined Aimed Alliance in August 2021 as a Staff Attorney. Ashira brings with her extensive experience in researching a wide variety of issues including public health, health education, human rights, women's rights, and disability rights. Building on her own experiences growing up and facing difficulties in accessing healthcare, Ashira is now a passionate advocate for healthcare access and ensuring healthcare is easily accessible and affordable.
Melissa Talwar, Support Fibromyalgia Network
Melissa is a National Board Certified Functional Medicine Health Coach trained at the Functional Medicine Coaching Academy and serves as the Executive Director of the Support Fibromyalgia Network.
Diagnosed with Fibromyalgia at the age of 14 years old, Melissa spent over 20 years declining in the medical system with no hope of improving. She was cyclically bed bound, with severe pain, brain fog, fatigue, and stomach issues. Melissa bio hacked herself using Functional Medicine principles, genetics, Bulletproof, Wahls Protocol®, and Bredesen Protocol®, and took herself from bed bound to a thriving advocate for Fibromyalgia and chronic pain. She is determined to empower others with the gift of health.
Session 2: Legislative Champions and the next big fights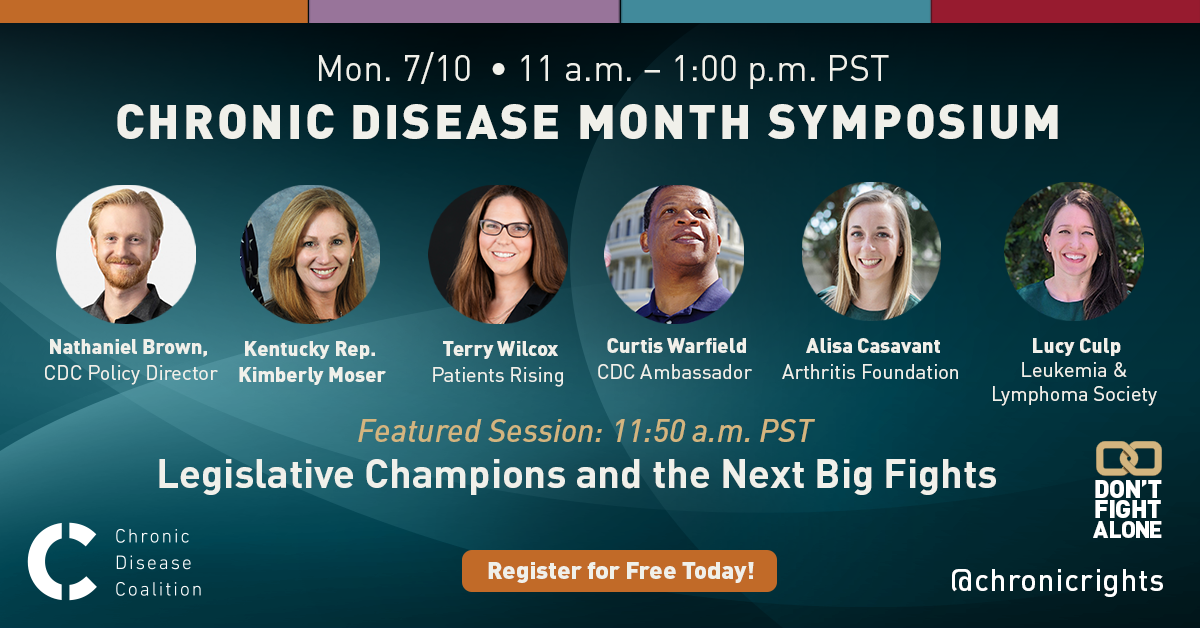 Our health care system is broken; but there are many elected officials and patient advocates out there trying to fix it. We've seen some great progress this year, but big obstacles remain. Join this session to learn all about chronic disease policy – and politics.
Nathaniel Brown, CDC Policy Director (Moderator)
Nathaniel is an experienced communications professional with a demonstrated history of community advocacy, public affairs and policy analysis work. He holds a Bachelor's Degree in Media Studies and Political Science from the University of Oregon and is passionate about civic engagement.

Kentucky Rep. Kimberly Moser
Rep. Moser was elected to the Kentucky statehouse in 2017. She is a registered nurse with a specialty in Neonatal ICU and flight nursing, served as a medical consultant during construction of Children's Hospital ICU towers, was elected Chair of the Kentucky Physicians' PAC in September of 2013, making her the first non-physician to chair a Physician's PAC nationally, and served as the President of the American Medical Association Alliance from 2017-18.
In 2022 and 2023, Rep. Moser led a statewide effort to expand Medicare supplemental insurance, a key priority for the Chronic Disease Coalition. The bill passed in 2023.
Terry Wilcox, Patients Rising
A passionate advocate for patients with cancer and other serious diseases, Terry Wilcox is Executive Director of Patients Rising, a non-profit patient education and advocacy organization that helps patients get access to essential diagnostics and the treatments they need. Terry and her team engage the patient community, along with physicians, health policy experts and allied healthcare professions, to develop realistic, solution-oriented discussions so those with life-threatening and chronic diseases will have a voice in shaping policies that will improve access to quality care.
Curtis Warfield, CDC Ambassador
In 2012 Curtis was diagnosed with Stage 3 chronic kidney disease by December 2014 he had started peritoneal dialysis. He has been an active CDC Ambassador for many years, bringing kidney health and awareness more to the forefront.
In June 2015, his daughter went to be tested to be a living donor. During the last stages of the testing it was determined that she would not be the best suitable match. His daughter's roommate and college sorority sister decided to get tested in October of 2015, "just because" she wanted to help someone. After completing her tests, she was a perfect match and on Jan 8, 2016 Curtis received a new kidney.
Alisa Casavant, Arthritis Foundation
Alisa is the Policy Director at the Arthritis Foundation, where she advocates for state and federal legislative and regulatory policy to improve care and support patients living with arthritis. She previously worked at Avalere Health as well as the CDC in Global HIV & Tuberculosis and the Ohio House of Representatives. Alisa earned her Master of Public Health in health policy and management from Emory University Rollins School of Public Health and has a BA in French and international studies from the University of Dayton. She is a passionate musician and currently lives in Washington, D.C.
Lucy Culp, Leukemia & Lymphoma Society
Lucy Culp is Vice President, State Government Affairs at The Leukemia & Lymphoma Society (LLS). Lucy leads a team of government affairs staff who advocate for state-level policy change to ensure blood cancer patients have access to affordable, meaningful health care. Prior to joining LLS, Lucyspent nearly 15 years at the American Heart Association, working extensively on state implementation of the Affordable Care Act and a wide range of other health policies. Lucy also serves as a Consumer Representative to the National Association of Insurance Commissioners. She holds a bachelor's degree from the University of Washington and lives in Brooklyn, New York.

Session 3: Caregivers & Providers in the Life and Advocacy Trenches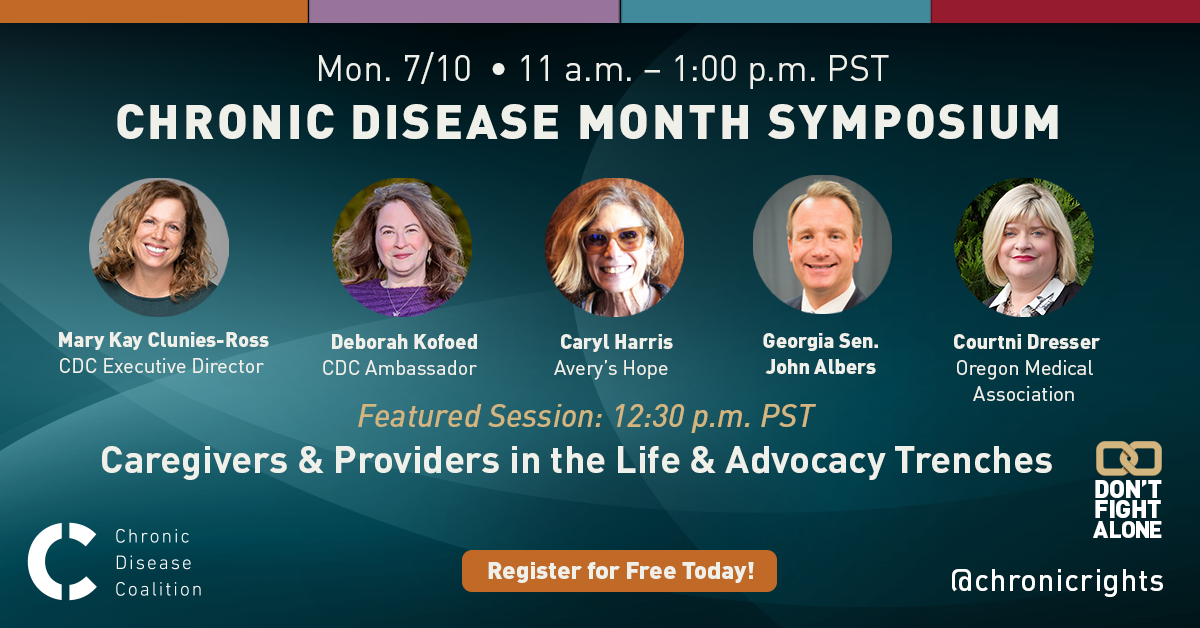 The patient experience is at the core of everything we do at the CDC, but providers and caregivers are essential to patients' wellbeing and to their long-term success. Hear from elected leaders, health care provider representatives, and caregivers about the tireless work they do – and what they need to best help their families and communities.
Mary Kay Clunies-Ross, CDC Executive Director (Moderator)
Mary Kay Clunies-Ross has been working to inform and engage the public for more than 20 years-- a mission she continues as Executive Director of the Chronic Disease Coalition.
Prior to being the CDC's executive director and a communication consultant, Mary Kay served as the Vice President for Membership and Communications at the Washington State Hospital Association, managed local and national media as the spokesperson for the City of Berkeley (Calif.) and was the Public Information Officer for more than a dozen City departments. She also served on the communication team of Seattle Mayor Greg Nickels.
Mary Kay has a Bachelor's in Political Science from Seattle University and Master's in Journalism from Northwestern in Chicago.
Deborah Kofoed, CDC Ambassador
At the age of 17, Deborah was diagnosed with Systemic Lupus Erythematosus or SLE. Her life became about doctor appointments, tests and finding the right medication regimen. She chose working over college because doing both flared her disease. Fighting lupus and all that comes with it is extremely hard and she eventually had to stop working altogether. After moving to North Carolina, she decided it was time to make a difference and become more active in the lupus community. She began to raise awareness on social media, participated in walks and fundraisers and joined her county's support group. Now, in addition to her work as a CDC Ambassador, she is proud to be a youth support group facilitator for the Lupus Foundation of America.
Caryl Harris, Avery's Hope
Caryl Harris co-founded Avery's Hope with her husband Eric. Named for their beautiful, and beautifully rare, grandson.
Caryl holds an M.A. in English Literature from Rutgers University and has an A.B.A. from the Department of Education.
Caryl is a member of the National Organization for Rare Disorders and is a representative for Avery's Hope with the EveryLife Foundation for Rare Diseases, and the Global Genes Rare Patient Alliance. She serves on the Patient Senate for Patients Rising Now. Caryl is also a Founding Member of WRAP – Worldwide Rare Advocacy Partnership.Caryl is an avid cyclist, an artist, a wife, a mom to three amazing young men, and "Ya Ya" to 4 grandsons.
Georgia Sen. John Albers
Senator Albers has long been an active member of his community. His affiliations include numerous boards of directors for business, civic and charitable organizations. He is a fourth-generation firefighter that served for over 30 years as a volunteer and his sons continue the family legacy as 5th generation first responders.
Senator Albers is an organ donor and gave a kidney to his son in 2021. After the donation, Senator Albers passed the Giving the Gift of Life Act and became a national advocate for organ donation.
Professionally, John is a business owner and executive with nearly three decades of management and consulting experience. John holds a bachelor's degree from the University of Louisville and completed post graduate programs at Harvard and the University of Georgia.
Courtni Dresser, Oregon Medical Association
Courtni has worked as an Associate Director, Government Relations at Oregon Medical Association for many years. The OMA advocates on behalf of providers throughout the state, at all levels of government. Prior to joining the OMA, Courtni worked in the government relations department of the American Cancer Society.
BONUS: SPECIAL REMARKS