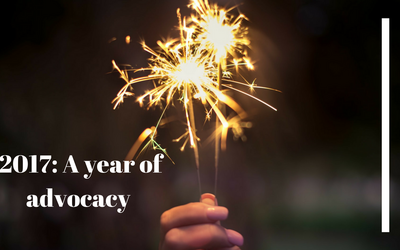 In 2017, the Chronic Disease Coalition, patients, elected officials and other advocacy organizations worked to increase access to care, fight discriminatory policies and provide support and resources for patients. With your help, we were able to make sure our voices were heard. To recap our busy year, here are our top 10 stories from 2017:
In January of this year, we published a blog post about a misguided and harmful Internal Final Rule from the Centers for Medicare and Medicaid Services, CMS-3337-IFC, giving health insurance companies new power to unfairly deny coverage to people with kidney disease. To help raise awareness about the rule, we took a look at what chronic disease patients were saying about it and why they opposed it. One woman in California noted, "With all due respect, this ruling is a huge disappointment with far reaching negative impact on ESRD (end-stage renal disease) patients in need. These underserved patients utilize this assistance because they have no other options for access to quality care. Without continued financial support, they are unable to afford the premiums and therefore revert to Medicaid (and in some cases Emergency ONLY Medicaid) which has either very long wait times for care or the care they need simply isn't a covered benefit."
"Going in Style" debuted on the big screen in April 2017. Starring Morgan Freeman, the film is about three lifelong friends who buck retirement and hatch a plan to rob a bank responsible for losing their pensions. Freeman's character, Willie, is in another desperate situation – he's a kidney patient undergoing dialysis and learns he must find a kidney donor. Upon the film's release, the National Kidney Foundation wrote in a newsletter: "With nearly 100,000 Americans on the wait list for a kidney transplant, organ donation is vital to our mission. This year, only about 18,000 people will receive a kidney; one-third of which will come from living donors. Considering these statistics, we couldn't be happier that Hollywood is bringing the conversation about kidney health and organ donation to the forefront." 3. 3 ways that SB 349 hurts California's kidney patients This year, the California Legislature considered passing Senate Bill 349, a bill that would've forced dialysis centers to offer fewer shifts, possibly limiting the availability of critical services for people whose kidneys are failing. We published a blog post in April highlighting our top three concerns regarding S.B. 349, which did not prioritize patient safety and could have increased costs while also limiting access to dialysis services. Luckily, the bill was shelved in September. We hope lawmakers will consider patients' needs first and shut down any similar initiatives to S.B. 349 in the future. 4. 5 articles you need to read about live kidney donation In April, we published a post about National Donate Life Month, a time to raise awareness of the importance of organ donation. National Donate Life Month also encourages people to register to become donors and celebrates individuals who have already given the gift of life. We featured five of our favorite stories about patient advocates who chose to donate an organ and the impact that they had on their match. 5. Patient Advocate Spotlight: Adam Meyer One of our most viewed Patient Advocate Spotlights told the story of Adam Meyer, a Gaucher's disease patient living in Southern California. His empathy and willingness to lend a helping hand to anyone in need deeply resonated with the chronic disease community. Meyer said, "Being sick from such an early age means I've always looked for answers. I have a deep appreciation for life. My experiences have led me to become a motivational speaker and a coach."
Natural disasters devastated parts of the United States this past year, leaving many patients without access to live-saving medical treatments and supplies. It was during this time that we saw patients, doctors and volunteers step up and lend a hand where it was needed most. This blog post highlighted four heroes and hundreds of others who were able to ensure that chronic disease patients received the care they needed despite the catastrophic circumstances.
In May, we connected with Amanda Greene, a lupus patient and fearless advocate. Greene was tested nearly 10 times for mononucleosis before being diagnosed with lupus. She has battled the disease and been an active advocate for 35 years – wearing purple the entire month of May to raise awareness about lupus. "Many times, people are worried about the stigma that's attached to lupus, and I want to help those who are afraid to speak out for themselves," said Greene.
Throughout the year, the Chronic Disease Coalition challenged health insurance companies who were more interested in profits than helping patients. From prior authorization and step therapy requirements to denying patients' payments, insurance companies found ways to steer costly chronic disease patients off of their plans.
In June, the U.S. Supreme Court sided with Ehlena Fry, whose school refused to allow her service dog in the classroom. At just 13 years old, Fry battles cerebral palsy and is able to have more freedom with the help of her goldendoodle, Wonder. "I saw with my own eyes how Wonder helped my daughter grow more self-reliant and confident," Stacy Fry, Ehlena's mother, told a Reuters reporter. Dogs are able to sense physiological changes, which makes them well-equipped to help people with various chronic diseases including asthma, diabetes, heart disease, lupus and epilepsy.
Health insurance companies are increasingly forcing patients to try and fail on cheaper treatments before they are able to access more expensive, effective medications that were prescribed by their doctors. Known as step therapy, this phenomenon saves health insurers money but harms patients and undermines their relationships with professional medical care providers. The Chronic Disease Coalition and more than 20 patient groups supported Reps. Brad Wenstrup of Ohio and Raul Ruiz of California as they introduced the Restoring the Patient Voice Act, known as H.R. 2077, in May. This commonsense legislation aimed to reduce barriers created by step therapy and to increase patients' access to effective treatment options.