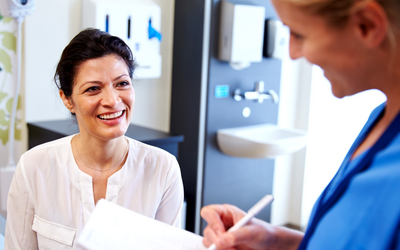 State protects access to charitable premium assistance and proves the insurance industry wrong

In 2017, Jeanie Murphy, who is blind, diabetic and suffers from kidney failure, was told by BlueCross BlueShield of Tennessee that her premium payments were denied because she is low-income and relies on financial aid from a charity to pay her bills. Without insurance she would be unable to cover the costs of dialysis, a process that filters toxins from her blood because her kidneys no longer can. Without dialysis, she would die.

Also in 2017, a Gallatin woman named Dovie Clifford wrote to The Tennessean newspaper that she was facing a similar denial from her insurer. She was hoping to receive a kidney transplant and relied on an exchange plan under the Affordable Care Act rather than Medicare – research has shown that patients on Medicare or Medicaid are less likely to get a kidney transplant, and Clifford, born with only one kidney in the first place, wanted to ensure she could receive an organ donation and eventually return to work and live life to the fullest.

Clifford appealed to Julie McPeak, the head of the Tennessee Department of Commerce and Insurance, which is charged with regulating health insurers.

"I sincerely ask the Tennessee Department of Commerce and Insurance Commissioner to please take notice of insurers' discriminatory practices, and to protect the rights of kidney patients – and all consumers in Tennessee – to choose the health plan that is best for them," Clifford said.

While many patients remain in harm's way because of discrimination in Tennessee, other states have taken proactive steps to protect Americans' rights and access to critical health care.

Louisiana sets an example for protecting consumers' rights

In 2014, when a federal rule created a loophole for insurance companies to reject premium payments from charities that help people with chronic diseases obtain health care, Blue Cross and Blue Shield of Louisiana announced it would no longer accept premium payments from nonprofit organizations that helped people pay their bills.

At the time, the federal rule, from the Centers for Medicaid and Medicare Services, drew criticism from groups such as Hemophilia Federation of America, Patient Services Inc. and others, who were rightfully concerned that, if Blue Cross was allowed to discriminate against more expensive patients with chronic conditions, other insurance companies would follow suit. It was a crisis for not only kidney patients and for people with hemophilia, but also for low-income people with HIV or AIDS, who frequently rely on financial aid too.

Susan Sommer of Lambda Legal told a Reuters reporter it was a "crisis for low-income people" in Louisiana.

"These are exactly the people the Affordable Care Act was designed to provide a safety net for," she said.

A 2014 article in The Times-Picayune also noted problems with the federal rule.

"If left to stand the providers will in effect negate the pre-existing exclusion that the Affordable Care Act brought," the Hemophilia Federation of America said in the article. "Patients with rare, expensive disorders will be disproportionately affected by this change."

Luckily, state legislators took action and created a policy that protected many Louisiana patients against the loophole in federal rule.

The Louisiana Legislature passed a bill requiring insurance companies to accept charitable assistance payments, also called third-party payments, from nonprofits established by the Ryan White HIV/AIDS Program, Indian tribes or organizations, state or federal government programs and the American Kidney Fund. This was a major win for patients' rights and did not harm the insurance industry, counter to their initial claims.

Louisiana results defy insurance industry arguments

When facing the prospect of having to accept premium payments from low-income patients with chronic diseases, insurance companies have frequently cited two arguments: One is the idea that patients should not be allowed to receive third-party assistance from disease-specific nonprofit organizations because of a supposed "conflict of interest." The other claim is that by accepting patients with chronic health conditions who would be helped by these types of programs, the insurance risk pool would be skewed.

However, both of these claims were just scare tactics. Neither ever came to fruition.

Analyses have consistently pointed to massive profits for health insurance companies. The top five biggest insurance carriers – including Anthem, the largest for-profit managed care company in the Blue Cross and Blue Shield Association of insurance carriers – doled out about $30 billion in dividends and stock buybacks from 2013 to 2015, Salon.com reported.

The largest insurers are making these profits off the Medicaid and Medicare business funded by taxpayer dollars. Anthem, while griping about making fewer profits in the Affordable Care Act's insurance exchanges, spent $4.5 billion to acquire Amerigroup, which runs Medicaid plans in 13 states, along with purchasing Simply Healthcare, which has hundreds of thousands of Medicaid and Medicare members in Florida, for $1 billion, the Los Angeles Times reported.

This suggests a major conflict of interest. Insurance providers are rejecting patients on Affordable Care Act plans and suggesting the patients belong on Medicaid or Medicare instead, and they have a financial motive to do so. Steering those patients to Medicaid will increase the profits they are currently reaping off of the public health plans.

This isn't the first time the insurance industry has made such false claims against rules intended to protect patients' access to health care and consumers' rights.

Florida policy shows that patient protections don't increase insurers' costs

In December 2017, a lobbyist for the insurance industry claimed that creating rules for insurers around issues such as step therapy or prior authorization would lead to higher health care costs.

Florida Sen. Debbie Mayfield corrected that falsehood.

"As much as I can appreciate the industry saying that it's going to drive up the cost of health care when we let doctors make the decision of what's best for their patients, I just don't find that that's true," Mayfield said at a hearing. "I've said this before and I will continue to say it until my last breath: Sen. Benacquisto and I passed a bill a few years ago that was a cancer parity bill. People thought the sky was going to fall when we passed that bill, and it didn't. And we have patients receiving cancer treatment at home through an oral treatment, which is costing them less money, and it's less drain on the hospitals and the doctors' offices because they don't have to go in and have IV treatments done and have side effects from them.

"This is the same thing," she added. "I'm in total support … so patients who need medication can take their medication without worrying about what the (insurance) industry may or may not allow them to do."

While many states, Florida included, do not yet have policies protecting access to charitable assistance programs, a federal bill is being considered that would at least help people on exchange plans. You can read more about that bill, H.R. 3976, by clicking here.