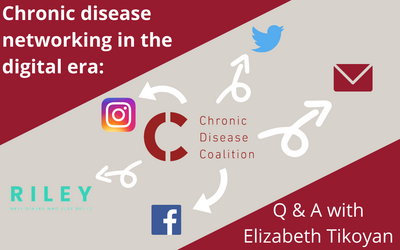 One of the most difficult aspects of living with a chronic condition can be finding a supportive community of peers who can relate and provide comfort in times of need; thankfully, the digital era has made it easier than ever for people to connect across the globe. Leading the way in digital chronic disease networking is the Riley app, a social media platform that seeks to empower patients through personalized connections. In this week's blog, we sit down with Riley's founder, Elizabeth Tikoyan, and learn about how the Riley app got started, the importance of human connections when living with a chronic disease and managing your condition amid a busy life.

Q&A with Elizabeth Tikoyan:

How did the Riley app get its start? At the University of Virginia, I was taking an innovation course and read an article entitled "The Process of Social Innovation" by Geoff Mulgan that stated the least amount of innovation was happening in the chronic disease and disability space. I thought about the article all week and started reflecting on my own Lyme diagnosis, thinking about the worst part of being sick. Then it dawned on me that it was one of the loneliest experiences of my life. I got sick in high school – people thought I was faking my illness because it was invisible. When I'd get treatment, everyone at treatment centers were three times my age, and Facebook support groups weren't a great way to meet people. Furthermore, I was left on my own and didn't have anyone around me who could relate to having a chronic disease. I wanted to connect with others my age to see what treatment was like, how they were coping, what worked, but I couldn't find anyone that truly understood. After realizing this gap in chronic disease support, I conducted surveys and found that 90 percent of those who I spoke with had a similar experience. Most people just don't understand what it's like to live with a chronic condition, and the Riley app was born. How long did it take to build? The app took a year and a half from idea to launch in the App store. When our team was creating the app, we constantly worked with patients getting feedback on what was important and what was working in the app. Because we were so focused on working with the community who this app is for, we gathered over 10,000 opinions while developing the app. From age range, to pain points, to learning about gaps in support, we surveyed thousands of people along the way. As a Lyme patient – what would happen when your condition got in the way of a deadline? My health is not 100 percent, but I take things day-by-day and I try to be as transparent as possible with all the parties I work with in terms of deadlines and my health. It is hard, and I do not always open up about the challenges my health presents, but when I really need to take it easy, I open up and have no shame asking for help. Personally, instead of getting mad at myself, I try and understand myself and my limitations. With my team, if someone has a delay – we accommodate as much as possible, and try to have all hands on deck if anyone needs extra support, but one thing we never compromise is the quality and care we put into our work. Personally, to manage my health, I take naps, I rest, I see doctors. I had surgery before launching our app and had to work out of beds, hospitals and treatment centers, but I'm doing it despite the obstacles. At the end of the day, this is my dream. Despite being sick, this is what keeps me going, and I won't be stopping anytime soon until the needs of the chronic disease and disability community are met. Who is this app meant for? This app is founded by patients for patients. The medical conditions listed on our app range from chronic conditions, rare diseases, reproductive conditions, mental health conditions and more. People of all ages have been signing up, but users tend to be younger groups ranging between 13 and 25 years old, and we welcome all patients age 13 and up. What would you like chronic disease patients to know? Despite your health, despite your disability, you have so much value in this world. It doesn't matter what society thinks or what people think – you have something of value that people don't understand. I want people to realize that chronic patients are brilliant. A lot of us are so hard on ourselves because we compare ourselves to able-bodied people, but you are unique in this world. It's a hard lesson that I'm still learning myself. We hope through our work, and advocacy measures we would be able to show the world that chronic patients are valuable, and we hope to #ChangeTheStigma around how society perceives our community. We invite all warriors passionate about our mission and we hope to be a welcoming community for those who need love, support, answers and empowerment during their health journey. The Riley app is just one way to make connections with other patients and build your chronic disease network. Patients can also join support groups, attend rallies and advocacy events, become a chronic disease ambassador and share their story online.