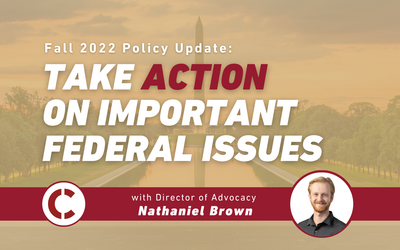 With most state legislatures wrapped up, it's a good time to level up our federal advocacy efforts. While progress is famously slow in Washington, D.C., your voice is an essential component of the process, and the Chronic Disease Coalition is supporting several bills that will positively impact patients and their families.
Prior Authorization Reform
When a doctor prescribes a specific treatment, that should be the end of the discussion. Unfortunately, providers and patients wait long periods of time for insurance companies to approve those treatments. However, a bipartisan group of senators this year introduced the Improving Seniors' Timely Access to Care Act (S. 3018) that will modernize the way Medicare Advantage plans and health care providers use prior authorization.
Drug Pricing Transparency
Drug prices are complicated for many reasons. Chief among them is the lack of transparency in how they're set. A bill was recently introduced at the federal level by Sen. Maria Cantwell (D-WA) and Sen. Chuck Grassley (R-IA) that would prevent pharmacy benefit managers – entities that negotiate prices on behalf of insurance companies – from implementing "unfair and deceptive acts or practices and the dissemination of false information related to pharmacy benefit management services for prescription drugs, and for other purposes."
Expand Telehealth Access Beyond COVID-19
The U.S. House this year passed a bill that would ensure Medicare telehealth benefits continue beyond the pandemic emergency declaration. It's now in the U.S. Senate Finance Committee. This is critical legislation that will help ensure some of our country's most vulnerable patients can obtain the care they need, in a familiar and accessible format. With the ongoing rise of COVID-19 cases and no real end in sight, expanding telehealth access and making it a permanent part of health care treatment is a top priority for the Chronic Disease Coalition.
Expand Access to Medigap
Each state has different requirements, with some requiring insurers to sell Medigap policies to qualifying residents regardless of age (under 65), and others setting premium limits. But several states don't require insurers to sell Medigap policies at all. That's why we need a federal fix. The Jack Reynolds Memorial Medigap Expansion Act is a bipartisan piece of legislation that will improve access to essential care for chronic disease patients by requiring all insurers to sell Medigap plans.
Support Federal Protections for Organ Donors
The Living Organ Donor Protection Act is a bipartisan bill that would ensure living organ donors across the country are protected from discriminatory policies based solely on their status as a donor. This bill prohibits certain insurance carriers from discriminating against living organ donors by requiring that insurers not deny, cancel, or otherwise impose conditions on policies for life insurance, disability insurance, or long-term care insurance based on an individual's status as a living organ donor.
Pick one or act on all of them – but don't let your voice get drowned out in the process. If you're interested in direct advocacy with your congressional offices, get in touch with the CDC team today and we'll help you make a connection!