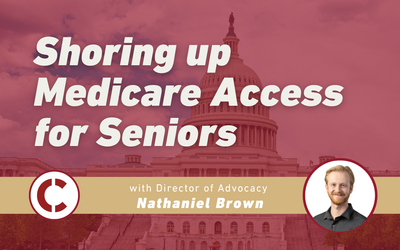 Medicare open enrollment begins October 15, which means that the nation's 63 million beneficiaries will need to select plans for the coming year, many of whom are living with chronic illnesses.
More than half will likely enroll in Medicare Advantage plans -- which are administered by private insurance companies that offer seniors a choice of different coverage options -- rather than the "traditional," one-size-fits-all Medicare plan operated directly by the government.
Medicare Advantage plans, on the whole, can be a sound choice for seniors. Unlike traditional Medicare, these plans often cover dental, vision, and hearing benefits. Many of them offer more comprehensive coverage at a lower cost, depending on a patient's health situation.
But not all Medicare Advantage plans are created equal. And unfortunately, every fall, some seniors fall prey to deceptive marketing tactics that convince them to purchase plans that are not best suited for their financial and medical circumstances.
Thankfully, Senator Ron Wyden just launched an investigation to solicit feedback directly from patients themselves about their experience purchasing Medicare Advantage.
As early as 2009, the Government Accountability Office was flagging false or misleading advertisements related to Medicare Advantage plans. The Health and Human Services Inspector General has found several plans that violated the law by incentivizing sales agents to enroll seniors in "plans that did not best meet…[their] health care needs."
The Inspector General also found that despite reform efforts, complaints about unscrupulous sales practices have not declined In fact, the Centers for Medicare & Medicaid Services announced earlier this year that marketing complaints more than doubled from 2020 to 2021.
Deceptive marketing techniques create costly, burdensome barriers between patients and the health care they deserve.
For millions of chronic disease patients across the country, strong consumer protection is essential. In August, in response to mounting complaints of fraudulent and deceptive practices, Sen. Wyden sent letters to 15 state insurance commissioners and state health insurance assistance programs asking for data on complaints. Americans with chronic illnesses are grateful for this effort and the CDC urges Congress to keep pressing for transparency and accountability to ensure public confidence in the system.