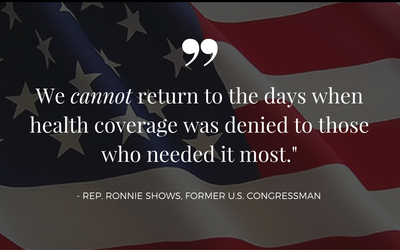 10.3.16

Ronnie Shows, who represented Mississippi's 4th Congressional District in the U.S. House of Representatives from 1999 to 2002, recently outlined why it's important for the Obama administration to protect patients against discrimination by insurance companies in U.S. News & World Report.

Here are five key takeaways we learned from the article:

1. The Affordable Care Act, or Obamacare, was supposed to solve a major inequity in the country's health-care system by preventing insurers from denying coverage to a patient just because they had a pre-existing condition.

In other words, it outlawed the practice by insurers of telling a seriously patient that he or she won't be covered for the very care needed to battle their disease.

This was a good thing, Shows notes.

2. Being able to choose your own health plan is important.

For example, exchange plans offer distinct benefits over Medicare. Many of these plans offer care coordination services, which Medicare does not offer. Exchange plans limit patients' out-of-pocket costs, but Medicare does not.

3. Allowing insurance companies to deny patients who rely on a charity's assistance to pay their bills would make exchange plans unaffordable for thousands of people with chronic diseases, forcing them to drop the coverage they need to survive.

"This would be a tragic result," Shows says, "that could hurt millions of Americans struggling with illness like end-stage renal disease."

4. And yet that is exactly what could happen soon.

The Centers for Medicare and Medicaid Services, which oversees the health-care law, is now considering a drastic change that would prevent patients with end-stage renal disease from receiving charitable assistance to help pay the premiums for health plans purchased on the health-care law's exchanges.

This is a major concern, according to Shows: "This could have a devastating impact on the ability of people with a very serious condition – kidney failure – to keep their private health coverage."

5. The answer is not to kick out the sickest patients.

"Those who have managed to buy a plan on the Obamacare exchange and receive premium support from a charity should not have that support taken away simply because they develop a chronic disease or condition that makes them eligible for Medicare," said Shows.

"We cannot return to the days when health coverage was denied to those who needed it most."

You can read the full article by clicking here.