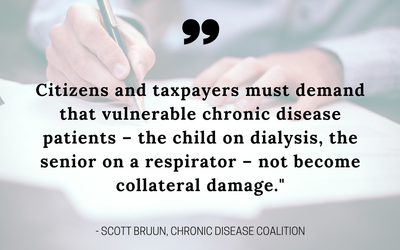 10.4.16

The voices against insurances companies' efforts to deny kidney patients access to charitable assistance programs are growing louder.

Chronic Disease Coalition Executive Director Scott Bruun, who has had type 1 diabetes for 35 years, has had rheumatoid arthritis for nearly 20 years and is a cancer survivor, recently had an opinion piece published in The Lund Report.

Over the past year, Bruun notes, some insurance companies have become increasingly aggressive in exploiting and creating loopholes that would effectively force thousands of chronic disease patients into Medicare prematurely.

"In recent months, Americans have seen growing evidence of failure within the Affordable Care Act," he wrote. "Whether it's the dramatic annual increases for commercial insurance premiums, pharmaceutical price-gouging including $600 EpiPens and $190 vials of insulin (even though insulin was discovered in 1922), or news that patient choice is becoming more limited due to insurers – including Aetna, United Health and Humana - leaving the Obamacare exchanges in droves, we are seeing that the system is not functioning the way it should. It is certainly not functioning the way Americans had hoped it would, or had been promised."

Read more by clicking here.