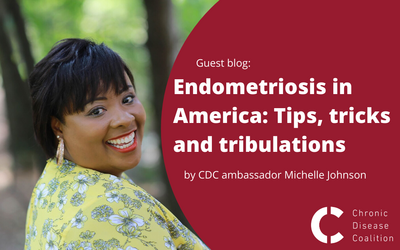 Endometriosis patients face an uphill battle when it comes to diagnosis, treatment and education. Not only do patients have hundreds of questions about their disease, choices and future, they also must begin a dreaded fight with their insurance company. The Chronic Disease Coalition teamed up with Michelle Johnson, a CDC patient ambassador, to discuss one of the most difficult and emotional topics many endometriosis patients face: dealing with an insurance company. When you are first diagnosed with endometriosis, you don't know what to think. You are inundated with information, leading to dozens of questions and difficult thoughts; you honestly don't know where to begin. What does this diagnosis mean? How will I be affected? How will my life change? How do I treat it? Will I ever be 'normal' again? We spend so much time trying to process the physical and emotional ramifications of this disease, we rarely take the time to consider the financial impact. When I received my diagnosis of stage 4 endometriosis in 2008, I was a full-time entrepreneur with no health insurance. I was deathly afraid that I would be denied surgery because I had no way to pay for it. This is the reality for so many endometriosis patients. There are a limited number of physicians who specialize in properly treating endometriosis, meaning even those who have health insurance are not immune to facing financial hardships. In many cases, when a patient is fortunate enough to find a competent surgeon, either the surgeon or other members of the medical team (such as adjunct physicians and anesthesiologists) are not covered by insurance. Other times, even if an insurer covers a doctor, the insurer might not cover a specific procedure or treatment option. (And if they do cover it, it's often a fraction of the cost.) It is a viciously brutal double-edged sword. If you factor in the cost of travel, lodging, childcare and work missed, an overwhelming majority of patients are still left with a mountain of outstanding medical debt. In my case, after the diagnosis, it was determined that I would need surgery. My mother took the initiative to request a patient advocate and inquire about any financial assistance that might be available due to my being uninsured. I completed the financial assistance application immediately, and by the time my surgery date arrived, I'd been approved for 100 percent coverage, not only for all surgical procedures, but also for an additional 18 months of post-op care. Determining how best to treat your disease depends on a myriad of factors, many of which vary from patient to patient. Sometimes, patients and their doctors may decide that a hysterectomy is the right treatment. While it is not a cure for endometriosis, many women find significant symptom relief following this procedure; particularly if their most debilitating symptoms occur during menstruation. However, insurance companies have been known to deny coverage to endometriosis patients who request a hysterectomy, calling it an elective procedure. When deeming hysterectomies "elective" in cases such as my own, insurance companies are imposing their beliefs on and making decisions for patients without regard for the impact on quality of life, health, bodily autonomy and the right to treatment. These are deeply personal and individual decisions that should be thoroughly discussed between patient and doctor, not be decided by insurance companies. Just last year, as I was preparing for yet another surgery, which included both an excision for endometriosis (currently considered the gold standard of treatment) and a hysterectomy for adenomyosis, often called the "sister disease" to endometriosis, I was denied coverage for my hysterectomy as it was categorized by the insurance company as "not medically necessary." Even though there is an abundance of medical and scientific evidence that supports the fact that hysterectomy is a known cure for adenomyosis, my insurance company still denied coverage upon first claim submission. Thankfully, I had a proactive doctor so well-versed with this tactic that he knew exactly how to handle it. While I decided to have my surgery in the spring of 2018, my doctor submitted the paperwork to my insurance in January 2018. He'd become so accustomed to having first claims denied that he already knew to allow a minimum of four weeks for the initial denial to come through, two weeks to resubmit statements of medical necessity, and another four weeks for a secondary response, generally resulting in approval. Sure enough, by the time the surgery date approached, we had received approval. Insurance companies also impose restrictive policies on patients without their consent, like step therapy policies. Step therapy – also known as "fail first" treatments – are insurance policies that require patients to try cheaper, often less effective options that are recommended by their insurance company before the insurer agrees to cover the original, doctor-prescribed medication or treatment method. If patients and doctors decide on a course of treatment based on a complete and thorough assessment of medical needs and desired outcomes, patients should not be forced to experiment with "cheaper" treatment options just to appease insurance companies, especially if the "cheaper" option might result in unintended side effects. Nonmedical switching is another tactic employed by insurers to discriminate against chronic disease patients. Last month, I went to the pharmacy to pick up a prescription that had traditionally been covered by insurance. However, when I arrived at the register, I was told that my prescription, which had been covered by insurance the month before, was now $438. Like so many other endometriosis patients, I am now also the victim of nonmedical switching, which occurs when insurance companies will switch a patient's medication for reasons other than the patient's health. Many times, no prior notice or explanation is provided, and often you are not aware of the change until you get to the pharmacy. Nonmedical switching can have several unintended consequences on the patient and can result in the reemergence of painful symptoms and the spread of the disease. Because there is so much trial and error involved in simply identifying what combination of medicines will provide the best relief with the fewest side effects, it is critically important to have continual access to these medicines without random substitution or cancellation of coverage by insurance companies. I have been a patient and an advocate for years. Fighting a denial from your insurance company may seem insurmountable at times, but consider my top tips for successfully fighting for coverage:
If you find yourself uninsured or underinsured, try applying for financial assistance through your medical facility's billing or financial hardship department. You may be eligible to apply even before you have your procedure.
One thing you can do to minimize the risk of insurance denial is to call your insurance company before scheduling your procedure to confirm if it is covered or not. If not, you can consult with your doctor for alternative options before exerting the time, money and preparation for surgery only to have it canceled at the last minute. You can also work with your specialist to schedule your surgery far enough in advance to allow for the latency caused by the appeal process, although timelines for the appeal process may vary.
If your doctor refuses to move forward with your desired treatment plan or tries to pressure you into an option that you are not comfortable with, be sure to obtain written documentation for your patient file that your request was denied and why. This is important. Although it is often easier said than done, this is a circumstance under which you should fire your doctor and seek out a specialist who is willing to work with you in a collaborative way rather than an unproductive one.
One way to protect the integrity of your prescribed medications is to have your doctor submit a prior authorization form, indicating that you have tried other medications without success, and that your currently prescribed medication is the best option for treating your condition at this time. If necessary, have doctors specify that no generic substitutions are to be made. Prior authorization forms are submitted by your doctor directly to your insurance provider. Most need to be renewed annually, and some insurance providers will mail you, not the doctor, notifications a few months before the authorization is set to expire. I strongly recommend keeping personal documentation of the medication name, prescribing doctor and date of authorization and expiration and reach out to your doctor to remind them to renew the authorization between 30 and 60 days before expiration.
Knowledge of discriminatory policies like step therapy and prior authorization can help you discuss the best treatment for your disease with your doctor, and it can help you defend yourself against your insurance company. By teaming up, we can bring awareness to the unfair treatment of chronic patients and educate patients on how to advocate for themselves and others. Michelle N. Johnson, LMT is the founder of the Fighting Fiercely Endometriosis Awareness movement and the author of Fighting Fiercely: Unveiling the Unknown about Endometriosis www.fightingfiercely.com fightingfiercely@gmail.com FB:www.facebook.com/fightingfiercely Twitter/IG:@fightfierceendo