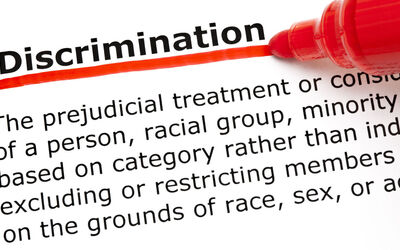 10.31.16 The Affordable Care Act, or Obamacare, the health law, included nondiscrimination protections meant to ensure fair treatment of Americans, including people with serious and chronic conditions. However, problems remain despite the goal to prevent discrimination. A recent webinar put on by the California Chronic Care Coalition and The AIDS Institute highlighted this issue and what consumers can do when they suspect their health insurance company is discriminating against them or a loved one. "We're happy to see progress being made for patients each year but continue to stress that the U.S. Department of Health and Human Services must reduce access barriers and clearly define discriminatory behavior in the Marketplaces to ensure patient protections are meaningful," said Carl Schmid, one of the presenters. Here are five takeaways from the presentation:
1. The health law prohibited insurance carriers from discriminating against people based on race, color, national origin, sex, age or disability by: • denying, canceling or limiting their plan, policy or other health-related coverage • denying or limiting coverage of a claim • imposing additional cost sharing or other limitations or restrictions on coverage • having or implementing marketing practices or benefit designs that discriminate in a health-related insurance plan or policy
2. However, even though the law clearly prohibits discriminatory benefit design, it did not define what discriminatory benefit design is. 3. Complaints have since been filed in relation to discrimination against HIV patients based on drug pricing. Additional complaints have been filed on pregnancy coverage, gender rating, HIV/AIDS and others, and last month the Harvard Center for Health Law & Policy filed complaints against 14 insurers in eight states based on the price of HIV prescription drugs. 4. The challenge now is enforcement to protect consumers. 5. You can help by becoming an advocate and keeping an eye on insurance plan design, filing complaints with the Office or Civil Rights, involving state insurance commissioners and meeting with issuers.
The Chronic Disease Coalition will continue to advocate for patients' rights and against disease discrimination. You can see the full presentation by clicking here. If you'd like to learn more about the Chronic Disease Coalition or become a member or partner, please click here.