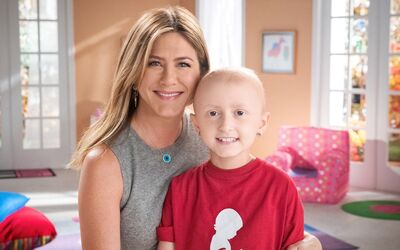 8.17.17 Whether it's Jennifer Aniston serving as a spokesperson for St. Jude Children's Research Hospital or Michael J. Fox working to find a cure for and raise awareness of Parkinson's disease, celebrities have enormous potential to advocate for causes and people with chronic diseases. Psoriasis is no different, with many celebrity champions working to raise awareness about this chronic health condition, an autoimmune disease often characterized by red, scaly patches of skin. With National Psoriasis Awareness Month now in full swing, following are the stories of four celebrities living with psoriasis who chose to publicly speak out and raise psoriasis awareness.
LeAnn Rimes
A two-time Grammy award winner and country music artist, LeAnn Rimes has been in the limelight since she was 8 years old, when she first appeared on "Star Search." Since then, Rimes has sold more than 37 albums, authored children's books and appeared in many movies and TV shows.
During the "Stop Hiding from Psoriasis" campaign, Rimes decided to publicly open up about her own struggle with psoriasis to raise awareness and let others know they aren't alone.
"The more we educate people, the easier it'll be for a psoriasis sufferer to walk outside with a pair of shorts on and feel comfortable," Rimes told Everyday Health in an interview. "Beauty's not just my skin, it's not just on the outside. And the more you talk about it, I think the more it helps."
Read the full interview with Rimes here.
Jon Lovitz
A comedian, actor and former Saturday Night Live cast member, Jon Lovitz's experience with psoriasis first started with a few rash-like spots on his body. Shortly thereafter, the lesions multiplied, becoming itchy, inflamed patches of skin covering nearly 75 percent of his body when the condition was at its worst.
"Even though I have struggled with the disease for 10 years, I realize people still don't understand what psoriasis is. Many actually think it's leprosy and even more think it's contagious," Lovitz wrote in the Huffington Post. "And when I finally talked to a dermatologist and found a treatment that worked, I realized I had to go public with my story and give people like me the hope that they can do something about their psoriasis."
Read Lovitz column in the Huffington Post here.
Phil Mickelson
Professional golfer Phil Mickelson publicly announced his battle with psoriatic arthritis in the months leading up to the 2010 U.S. Open, using the experience as an opportunity to help educate and inform others.
"It was really scary when I came down with it, because right after last year's U.S. Open, I was unable to get out of bed. It was so debilitating and such an excruciating pain," Mickelson told ABC news in an interview.
Given his unique experience, Mickelson sought to help raise awareness by providing others with an opportunity to learn more about psoriatic arthritis and plaque psoriasis, as well as to emphasize the importance of getting immediate treatment to prevent damage to the joints.
Watch Mickelson's full interview here.
Cyndi Lauper
Pop icon and musician, Cyndi Lauper – known for her classic anthem "Girls Just Wanna Have Fun" and unique fashion sense – opened up to People magazine about her decades-long struggle with the chronic condition in 2015.

"You don't have to suffer in silence or live in pain," said Lauper of her experience with psoriasis. "My whole entire body was covered in a rash and scaly skin. And then it just started creeping up my neck. I felt swallowed by it."

Read the whole story in People magazine here.

Celebrities may be able to leverage their influence and fame to reach large audiences, but you don't have to be a star to raise disease awareness and become an advocate. The Chronic Disease Coalition encourages you to use your voice, share your experience and advocate for what's important to you. Join the Coalition today as we continue to advocate for and protect the rights of the chronic disease community.