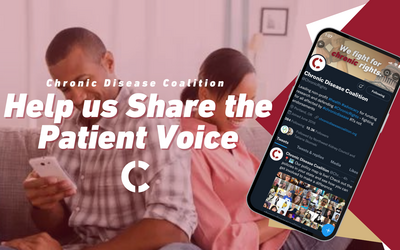 As we at the Chronic Disease Coalition start the new year, we are focusing on raising the volume of patient voices in healthcare policy and the visibility of the Coalition.
While we have done some paid ads in previous years, most of our success thus far has been based on organic growth and personal connections. We deeply value the personal relationships we've made with individuals and groups in the patient community and want to keep them at our core. At the same time, we know that our long-term effectiveness depends on increasing volume and visibility with larger numbers of patient-advocates.
While we're active on all the regular social channels and we have a great group of patient ambassadors who are constant and successful advocates, we want… more. More voices. More states. More wins for our policy agenda. And to do that, we need a digital media partner to help us get our patient stories in front of the right people.
The ideal digital media partner will work closely with us to develop and execute a creative, effective approach to patient-forward advocacy. We're looking for a partner with
Experience in legislative-focused grassroots advocacy in multiple states (including lobbying compliance)
Experience in messaging to diverse audiences
The ability to design and produce creative digital ads in line with the CDC brand
Ability to manage all aspects of a multistate campaign, including cost, budget and analytics
This is our establishing year, so while we have a strong sense of direction, we are looking for a true partner in developing an approach we can build upon.
If you're a digital media firm with creative and ad-buy chops, email our executive director at marykay@chronicdiseasecoalition.org and she'll send you the RFP.