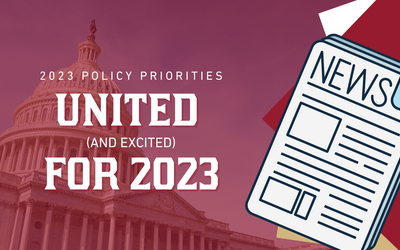 By Nathaniel Brown, director of advocacy
For many of us, December is a time to wind down, rest, and recharge. Silent nights, peaceful snowfalls, warm embraces. And for those of us in the policy world, December also represents the calm before the storm.
Legislative sessions are going to commence in state capitols around the country beginning in January. Thousands of bills are being drafted as this blog is written.
At the Chronic Disease Coalition, we're ready. We've spent the past few months in discussions with our board, our members, our ambassadors, and partners to craft our 2023 policy platform. We are more united than we've ever been around our areas of focus for next year.
Access, affordability, and representation.
Within those areas, some of the issues remain the same – our bread-and-butter positions, like step therapy reforms, telehealth expansion, and bans on copay accumulator programs, are still at the top of the list. So are things like living donor protections, patient-centered task forces, and expanding Medigap.
But we're also diving deeper into a few critically important conversations that have big impacts for patients. In 2023, you'll see the CDC engaging more heavily in favor of pharmacy benefit manager reform, so we understand more about what's driving treatment costs. We'll be weighing in on efforts to stabilize the health care workforce. And we'll be looking for every and all opportunities to shine a light on social determinants of health, like access to proper nutrition and safe housing.

During our final Chronic University of the year, I had the wonderful opportunity to chat about the 2023 policy platform with two longtime coalition members: Stacey Poole, Takeda Pharmaceuticals and CDC board member; and Claire Sachs, TPAC Consulting and CDC ambassador.
Claire and Stacey are both chronic patients and strong advocates for this community. The conversation is well worth a watch.

As we move into January, we will be sharing more information about how you can engage on the issues that matter to you. We'll be delivering regular policy updates from every statehouse in the country and activating our network of advocates frequently. And while 2022 was a banner year for this organization, I am so excited about all we can accomplish together in 2023.