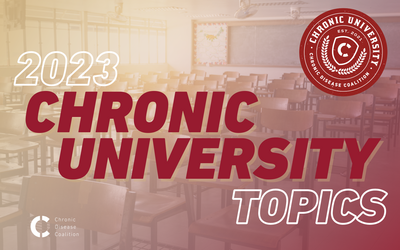 The CDC team has been hard at work creating your annual Chronic University topics, and we're excited to share the 2023 line-up.
This list features insights from our ambassadors, as well as topics that inform and engage around our policy priorities.
Chronic University illuminates the challenges of living with chronic disease and identifies different ways patients and their supporters can best advocate for themselves. Sometimes the advocacy lies in the political/policymaking realm, but it can also be advocacy within the healthcare system. Free and open to the public, participants get first-hand advice from expert patients, providers, legislators and more!
Take a look at this year's topics and don't hesitate to reach out to the CDC team if you would like to contribute your story or recommend a patient or expert to speak in a session.
Covid Long-Hauler: The Newest Wave Of Chronic Disease Patients
Thursday, February 23
As we approach the three-year anniversary of the first diagnosed case of COVID-19 in the United States, we continue to see people suffer from long COVID and the significant impacts to their daily lives. From brain fog to chronic fatigue, long-haulers are now considered the newest wave of chronic disease patients.
In this session we will explore what long-COVID is, how our health care system is working to support patients, and how veteran patients can help newly diagnosed patients navigate their new health journey.
Amplifying The Kidney Patient Experience
Thursday, March 23
Chronic kidney disease patients and those with End Stage Renal Disease (ESRD) face serious challenges each and every day.
From Medigap coverage restrictions for ESRD patients, to outright insurance denial for living donors, the kidney community often bears the burden of a struggling health care system.
Hear the stories of patients and families who are managing chronic kidney disease and learn from legislators about what we can do to protect this community.
Engaging With Legislators 101
Thursday, April 27
Are you new to your advocacy journey? Or maybe you're a long-time advocate who just wants to brush up on your skills?
In this session we will hear directly from legislators and their staff about tips and tricks to get your voice heard. If you want to make change in your state, this is the session for you

Demystifying Mental Health
Thursday, May 25
Brains and bodies are integral but too often, the healthcare system treats mental health as a separate, and secondary, consideration.
Mental health problems disproportionately impact the chronic disease community and we need legal policies and protections to ensure access to this lifesaving care. Options for improvement include pay parity for providers, helping end the stigma around mental health, or ensuring access to new breakthroughs in treatment.
In this session, we will dive into how mental health impacts overall health and how you can help end the stigma around some of the most common chronic conditions.

The Case For Whole Health Care
Thursday, June 22
Especially for those managing a chronic disease, getting to "wellness" is more than a doctor's visit and proper medication. Wellness is also the everyday choices we make to take care of ourselves. This is especially important for Americans living with chronic illnesses.
Making lifestyle changes can be the most challenging aspect of a chronic disease diagnosis, but patients also find it's the most empowering way to take back control of their lives and health. Join us for a conversation about how nutrition, consistent exercise, meditation routines and other healthy habits all combine to support the full and robust life that everyone is entitled to live.
Time To Take Action For Chronic Disease Month
Thursday, July 27
Every July, we recognize Chronic Disease Month and the progress made by and for patients. This is a key time to amplify the experiences of those living with chronic disease and recommit to advocating for patient-centered policymaking.
Our Chronic University this month will feature representatives from various levels of government, who will speak about the many ways public policy benefits from patient perspectives, when and how patients can be involved in the policymaking process and provide examples of patient-centered legislation at the state and federal level.
Most importantly, this is your opportunity to share your story with key elected officials.
Representation For Rare Diseases
Thursday, August 24
Chronic disease impacts nearly half, or 133 million, Americans—with only 1 in 10 having a rare disease.

Rare disease patients often face a variety of representation obstacles, but the rarity of their condition doesn't make the impacts of bad health care policy any less real. In fact, it can easily exacerbate it.

Hear from rare disease patients and advocates about what you can do to elevate rare disease voices and protect patient access in legislatures across the country.
Protecting Our Healthcare Workforce
Thursday, September 28
Staffing shortages, increased costs, new mandates, training requirements and more are all impacting the health care system. Lack of trained professionals to care for a growing chronic disease community is a scary reality that we must work together to address. Above all, we need to ensure providers can give the highest quality treatment to their patients.
In this session, you will hear from legislators and health care professionals about current policies that are in place that are both harmful and helpful to the strength of America's healthcare workforce.
Navigating Insurance Open Enrollment
Thursday, October 26
Open enrollment is around the corner. At the Chronic Disease Coalition, we advocate regularly for policy solutions to harmful utilization management practices that make treatment less affordable and accessible to patients. We work hard to change the way chronic patients are covered by their insurance.
This session will cover the basics of insurance utilization management issues, how to select a plan that's right for you, and where the coverage conversation is going in the future.
Caring For Our Caregivers
Thursday, November 16
November marks the official National Family Caregivers Month!
Chronic disease patients often rely on those closest to them for care of their day-to-day needs. This is a time to spread awareness of obstacles to caregiving, to educate communities, and increase support for caregivers who sacrifice so much to do what they do.
We will have the opportunity to hear best practices from caregivers as well as public policy solutions to some of the most common issues in this community that need to be addressed.
Our 2024 Policy Priorities
Thursday, December 21
We're celebrating a year of powerful advocacy!

Join legislators, advocates, partners and others to learn more about what happened in 2023 and where the Coalition's policy priorities will be for 2024 in this special end of year Chronic University session.

We look forward to advocating with you in the new year.